Food Service Refrigeration Rental in Kentucky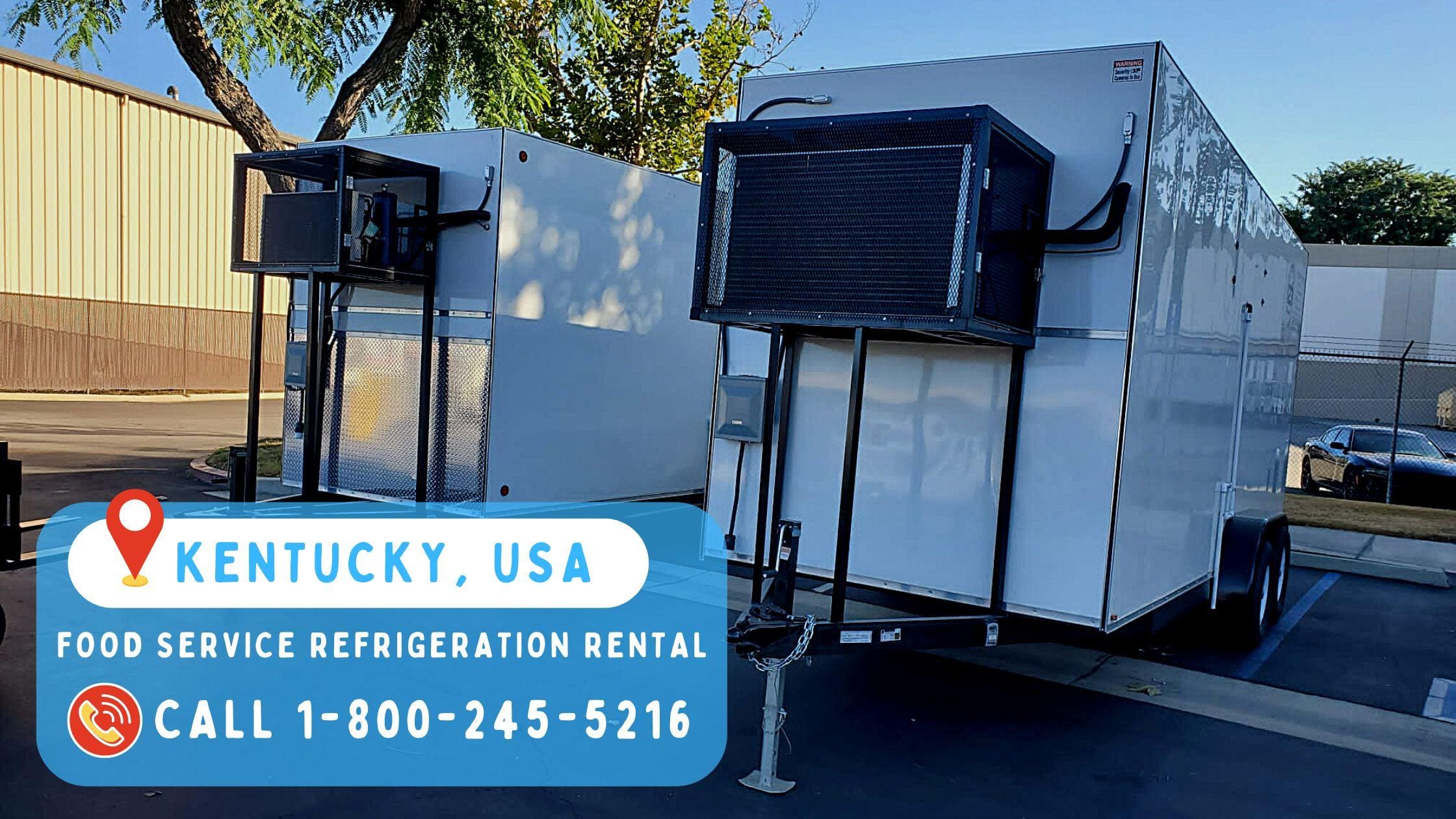 You may purchase the equipment that best meets your demands from Ice Fox Equipment at a reasonable price, freeing up cash for other uses in your company. We have equipment accessible to suit all of your requirements, regardless of whether it is for a new installation or an upgrade. We can provide you with specialized solutions for your demands in refrigeration equipment thanks to the expertise and knowledge of our staff. Along with offering leasing choices, we can also take care of all of your installation, service, and performance maintenance requirements for any rented, purchased, or leased equipment. Every time you need equipment solutions, we work hard to provide you with quick, dependable ones. Ice Fox Equipment has you covered at all times!
Food Industries – Emergency Refrigeration Container Rentals

Pharmaceutical Industries – Refrigerator Trailers for Rental and for Sale

Construction / Remodel – Modular Building for Sale

Special Events – Portable Cooler Rental and Mobile Refrigeration for Lease 

Commercial Kitchens – Indoor Walk-in Freezers and Refrigeration Coolers for Sale  

Research / Development – Modular Cleaning Room and Portable Freezer Leasing

Cannabis Industries – Modular Buildings for Sale and Outdoor Walk-in Coolers 

Laboratory Testing – Walk-in Cooler for Lease and Refrigerator Containers for Sale

Morgues – Modular Morgues and Walk-in Refrigeration Sales

Military Uses – Modular Kitchen Building Sales

Emergency Services – Modular Kitchen for Lease  
Food Service Refrigeration Rental is the best option for your Project, our rental fees are the most affordable in the market for the being such great units, all of our Food Service Refrigeration Rental and Food Service Refrigeration Rentals are approved by Health Departments and they are in fantastic conditions, it is such a great relief to be able to sit down and let Food Service Refrigeration Rental take care of all your needs with the best Refrigerated Units you can find all over the United States and Canada.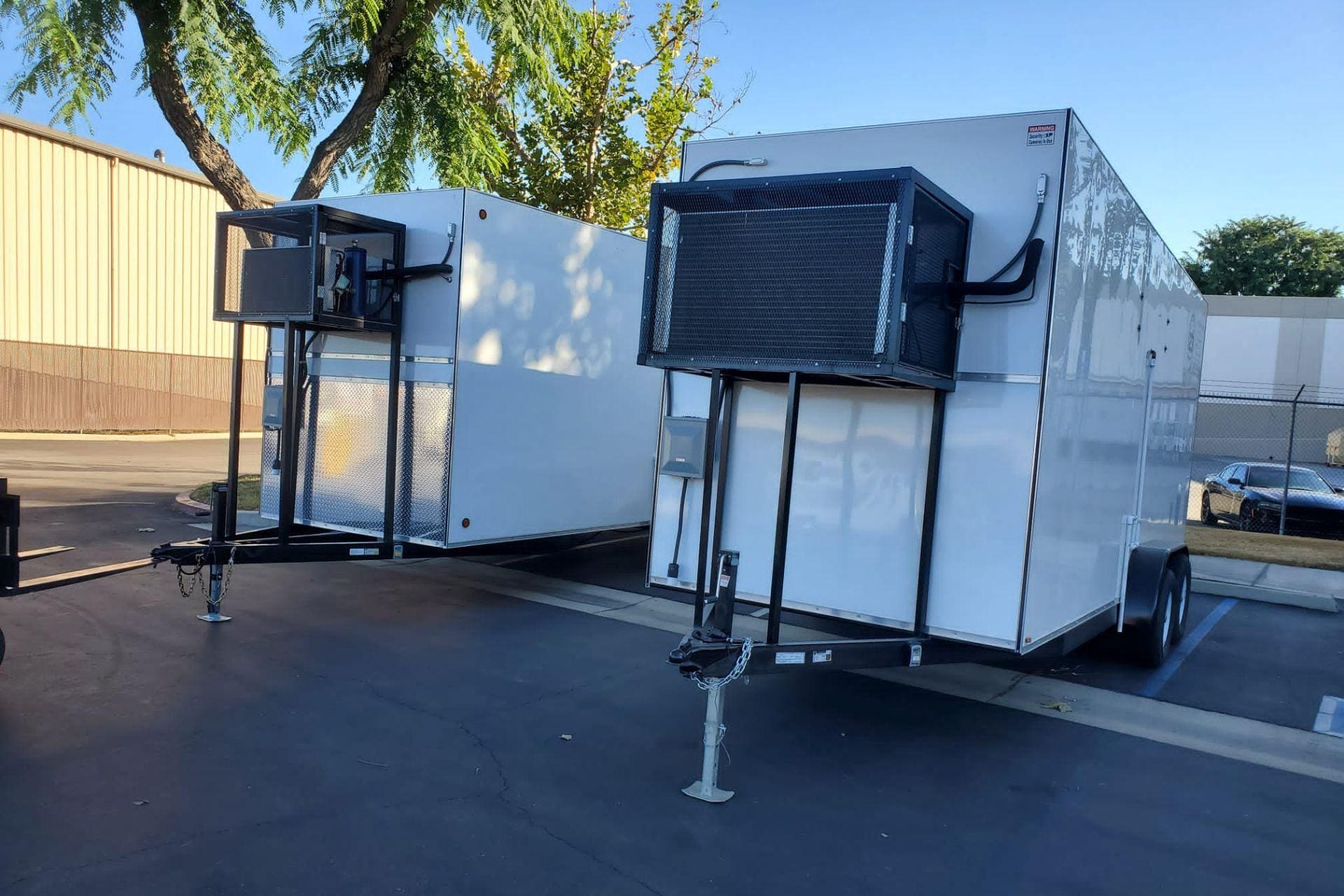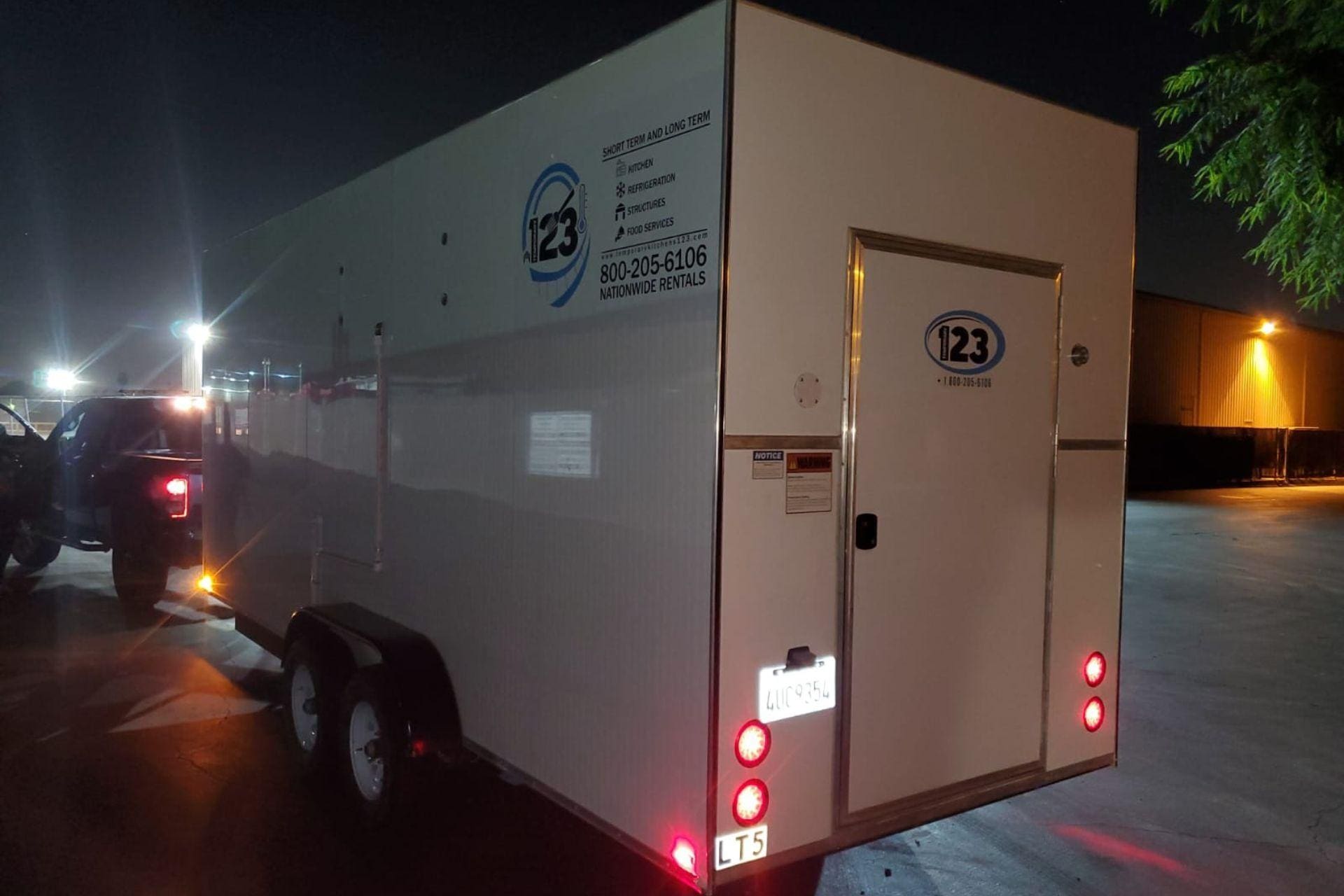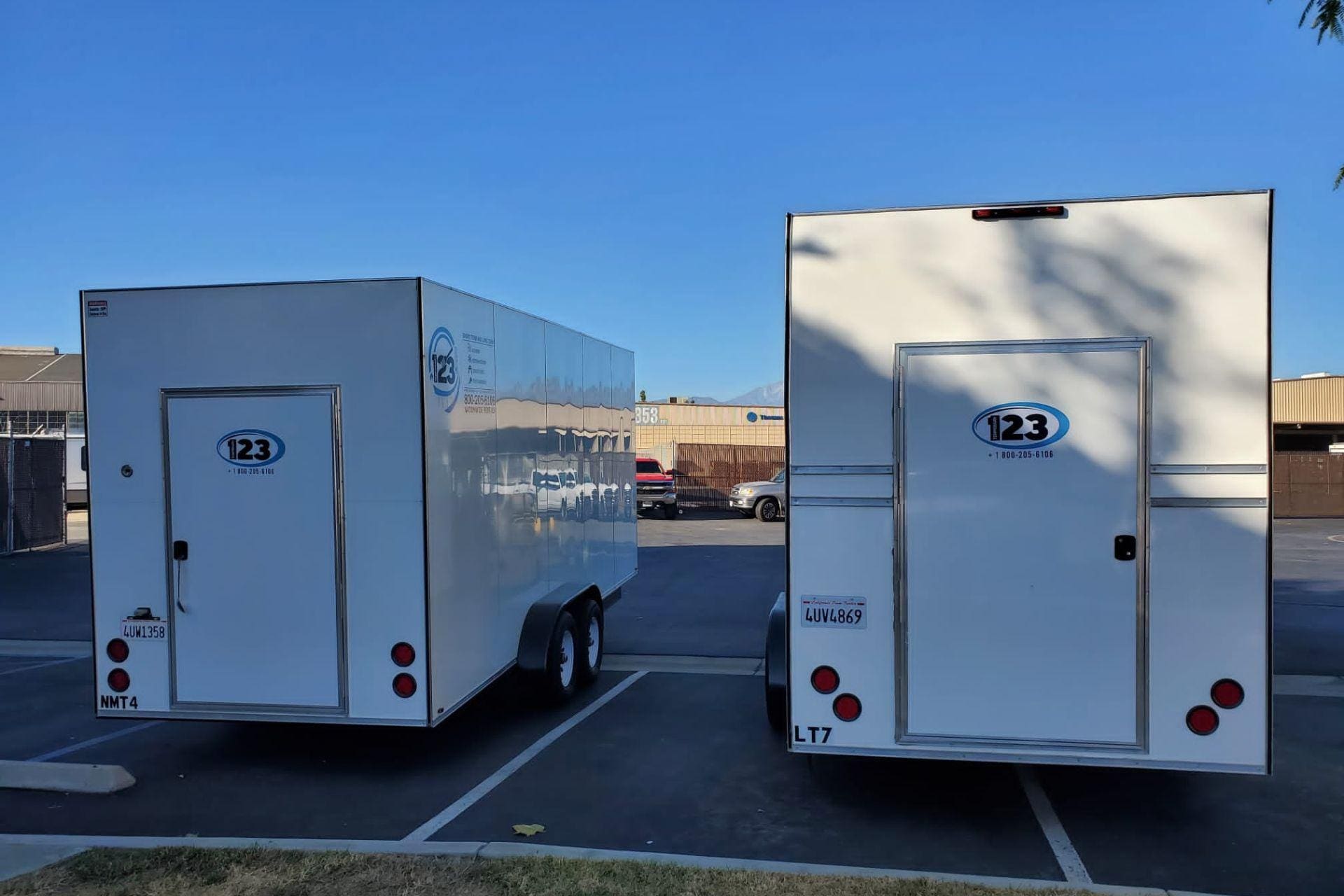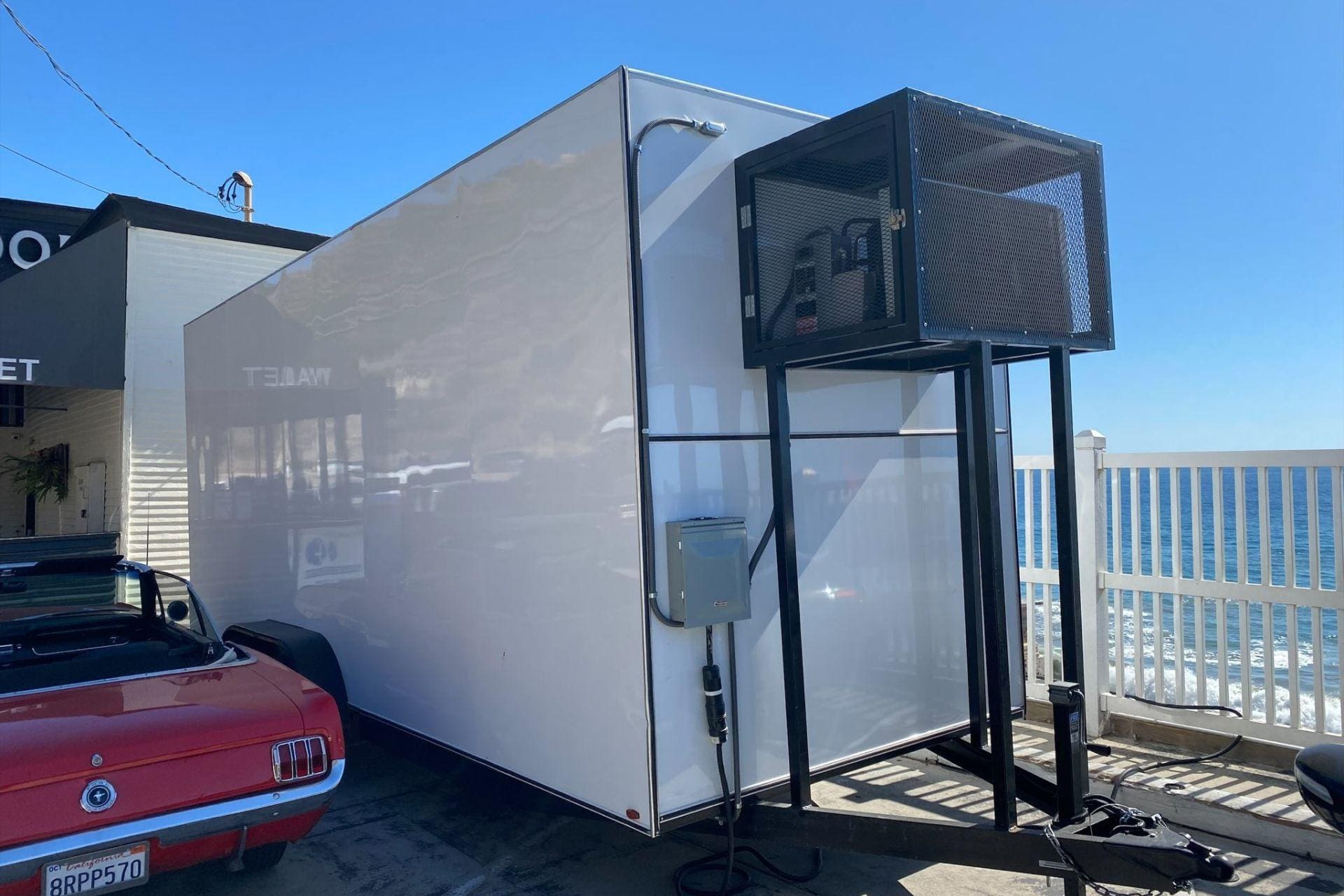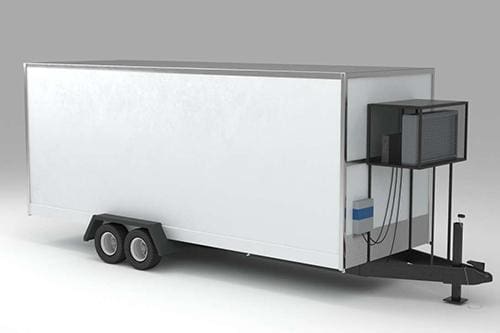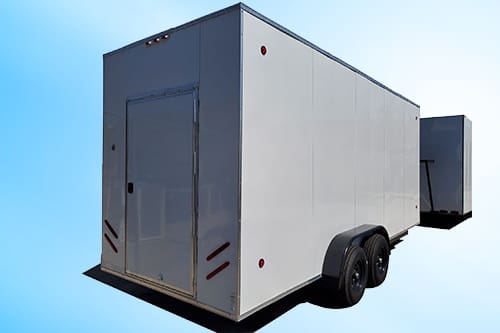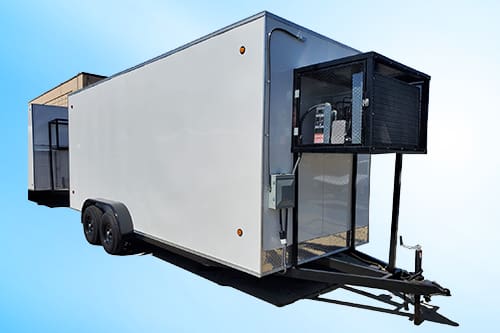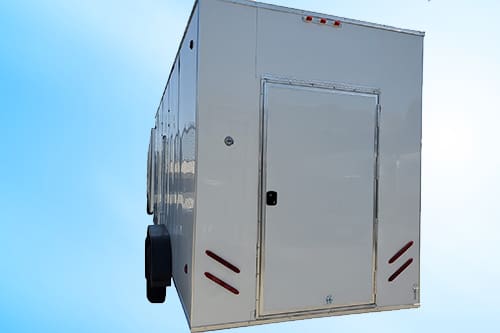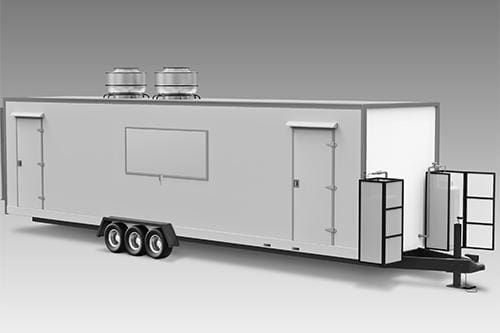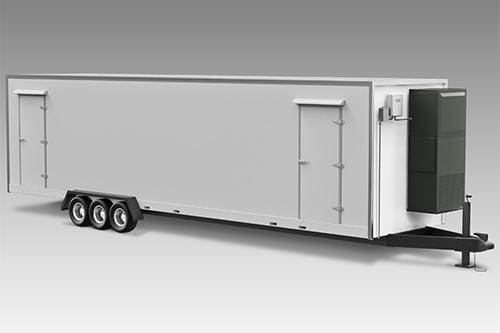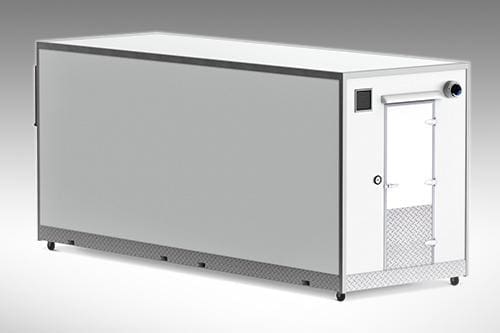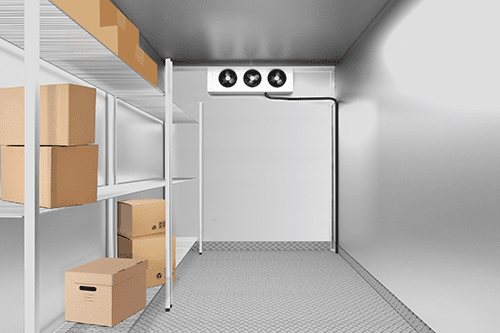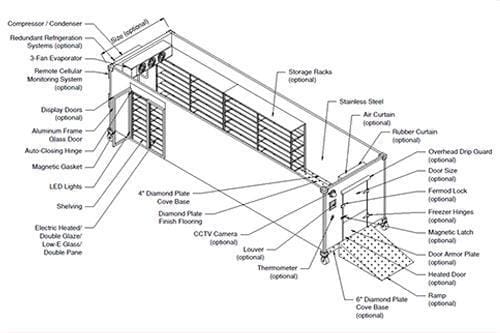 For almost 25 years, Ice Fox Food Service Refrigerator Rental has been leasing equipment just like: Mobile Refrigeration For Lease, Portable Refrigerator Rental, Rental Refrigeration Containers,  Rental of Refrigeration Trailers, Rental of Refrigeration Freezers, Mobile Refrigeration Rental, Rental of Temporary Refrigeration, Rental of Mobile Refrigeration, Base Camps Rentals and services, Emergency Response, Mobile Kitchen Trailer Rental, Bunk House Trailer Rentals, Portable Refrigerator Units, Shower Trailer Rental, Restroom Trailer Rental, Security Trailer Rental, Laundry Trailer Rental, Living Quarters, Clear-span Structures Rental, Electric Power Generator, Portable Refer Units, Potable Water Service, Water Trailer Rental, Ice Trailer Rental, Mobile Morgue Trailer, Command center trailer. Throughout the United States, our refrigerated trailers are rented for both short-term and long-term customers.
We also provide services like:
Refrigeration Container
Refrigeration Trailer
Walk-in Refrigeration
Walk-in Cooler
Walk-in Freezer
Outdoor Walk-in Freezer
Ice Fox Equipment is a cost-effective approach to obtaining the equipment that best meets your demands while freeing up funds for other uses in your organization. We offer equipment to match all of your demands and budget, whether it is for a new installation or an upgrade. Our professional and educated staff can assist you in developing customized solutions for your refrigeration equipment requirements. In addition to leasing choices, we offer installation, repair, and performance maintenance for any leased, purchased, or rented equipment. We endeavor to provide you with quick and dependable equipment solutions anytime you want them. Ice Fox Equipment is always there for you!
Our company offers rental services like:
Refrigeration Container rental in Louisville, KY
Refrigeration Trailer rental in Lexington, KY
Walk-in Refrigeration rental in Bowling Green, KY
Walk-in Cooler rental in Owensboro, KY
Walk-in Freezer rental in Covington, KY
Outdoor Walk-in Freezer rental in Hopkinsville, KY
Our Company offers Food Service Refrigeration Rental and Food Service Emergency Refrigeration. Service includes Food Service Refrigeration Rentals and Food Service Freezer Rentals units that are perfect for emergency situations of any kind, the units can be ready to operate within hours, which makes it a quick and safe answer to your emergencies. If you need to rent a Mobile Reefer Container Rental or Mobile Cooler reviewed the details included in this information from the begging. Food Service Emergency Refrigeration and Food Service Mobile Refrigeration devices operate on 220 or 486 volts due to the transformers installed in most of the units that we provide.
WHAT ARE PERMANENT MODULAR STRUCTURES? 
Permanent modular structures are permanent buildings, with the intent of being long-standing structures that are neither moved nor altered. Similar to traditional building construction, the foundation of permanent modular buildings includes poured concrete with rebar and crushed stone. In certain instances, a raised or on-grade foundation can be used.
WHAT ARE SEMI-PERMANENT STRUCTURES?
Semi-permanent buildings or semi-permanent structures, are buildings that may be intended for longer use but can still be moved. The most common difference between all these types of modular building construction is whether or not the structure has a permanent foundation 
Ice Fox Equipment COOLBOX STRUCTURES ™ Pods, COOLBOX STRUCTURES ™ Modular Edition buildings, and all our modular kitchen trailers for sale are designed with local building and health department codes in mind. 
What are the finest methods for renting Food Service Emergency Refrigeration in an emergency? Call us right now to rent Food Service Emergency Refrigeration. Mobile Food Service Refrigeration Rental is without a doubt the ideal alternative for your requirements. The mobile refrigerated rental unit is equipped with thermometers that continuously record temperature, as well as digital alarms that will sound if the temperature dips or climbs beyond the specified limit in Cohoes. Customers whose present storage requires extensive repairs may also benefit from our refrigerated container rental services over the duration of their project or whatever they have in their facilities in the best possible way, only with Food Storage.
We provide equipment leasing to all of our clients for the period of repairs, whether long-term or short-term leasing; we are here to provide you with the finest service and pricing available. Many large department store chains use our Cold Storage Container Rental services on a regular basis because they are familiar with the equipment we have for rent. At the same time, Food Service Refrigeration Rental is also very familiar with most of the needs that customers may have, as we have good knowledge of product storing and the manufacturing of some goods and pharmaceuticals. We provide outstanding rentals for these types of enterprises as well as businesses that want certain temperatures for their goods and rentals.
We are offering services like:
Refrigeration Container sales in New Jersey
Refrigeration Trailer Sales in New Mexico
Walk-in Refrigeration Sales in North Carolina
Walk-in Cooler Sales in Colorado
Walk-in Freezer Sales in Connecticut
Outdoor Walk-in Freezer Sales in Pennsylvania
Our Food Service Emergency Refrigeration Company, Food Service Refrigeration Rental, has a huge inventory of mobile cold storage containers for hire, and this allows us to handle the rental requirements of our many customers having different needs. Our Mobile Food Service Mobile Refrigeration also has invested in mobile cold storage containers of different sizes, and this also allows us to offer a variety of options for rent or leasing.
In the end, consider the above factors for your decision on whether to choose indoor walk-in refrigeration or an outdoor walk-in cooler. Be sure to take all factors into account before you lease, rent, or purchase and install any Ice Fox Equipment unit, to ensure that it is going to ensure the best results and suit your needs: 
Temporary Freezer for Rent

Walk-in Cooler Lease

Temporary Refrigeration Freezer for Rent

Emergency Refrigeration Cooler Rentals

Refrigeration Trailer for Lease

Refrigeration Freezer Trailer for Sale

Outdoor Walk-in Cooler for Rent
Food Service Mobile Refrigeration rental with Mobile Refrigerated Container Leasing USA is the preferred option for our clients because the rental contract also includes repairs and maintenance. In other words, our cold storage container rental company will take care of the maintenance of all the equipment it offers for rent. Our clients prefer to take equipment on rental rather than purchase because rental allows them to leave the entire responsibility of maintenance on the cold storage container rental company providing the equipment.
We offer services like:
Refrigeration Container for lease in the state of Kentucky
Refrigeration Trailer leases in  Salina, Florence, Georgetown, Hopkinsville, Owensboro, Bowling Green, Lexington, Louisville, Richmond, and Covington, KY
Walk-in Refrigeration for lease in Kentucky
Walk-in Cooler for lease is available in all States of the US
Walk-in Freezer for lease is available in the cities of  Louisville, Lexington, Bowling Green, Owensboro, Covington, Hopkinsville, Richmond, and Florence, KY
Outdoor Walk-in Freezer for lease in zip codes 40025, 40023, 40022, and 40020
At the end of the day, all that matters to Food Service Mobile Refrigeration is that all customers are happy with our service. Mobile Food Service Refrigeration Rental is a company that has professionals who care deeply about your needs and personnel who will make sure everything runs smoothly for you. Our great years of experience and all the benefits you were able to read about in this article, give us the opportunity to bring you the best options.
Are Ice Fox Equipment units more suitable for outdoor versus other material boxes?
Our stainless-steel interior walls, aluminum exterior sidewalls, and metal frames are very attractive and easy to clean which makes them suitable for either outdoor or indoor use. The smooth aluminum surface makes cleaning easy with just a wipe-off. Other materials are harder to clean and can become permanently discolored. 
Are Ice Fox Equipment units only for temporary or short-term refrigerated storage?
Our refrigerator containers for lease, refrigeration trailers for lease, our portable freezer leases, and any of our rentals or leases can be for as long as needed. We do offer special programs for customers that want to rent long-term. 
We provide Food Service Mobile Refrigeration all over the United States and Canada. Food Service Refrigeration Rental provides all the needed units for your construction projects, product development, or any kind of need, we are the number one company providing Refrigerated Containers, Portable Refrigerated Container for Rent USA Food Service Freezer Rentals, Refrigerated Trailers, Mobile Freezer Trailers and more.
We provide services in all the States of the US like:
Refrigeration Container for sale in Nevada
Refrigeration Trailer for sale in New Hampshire
Walk-in Refrigeration Trailer for sale in Arizona
Walk-in Cooler Trailer for sale in Idaho
Walk-in Freezer Trailer for sale in Michigan
Outdoor Walk-in Freezer Trailer for sale in Arkansas
Besides Food Service Refrigeration, we also have other products that may help your business greatly. These may help you waste your time and hustle free for your emergency needs.
We also offer Rental services like:
Base Camps Rentals and services
Emergency Response
Mobile Kitchen Trailer Rental
Bunk House Trailer Rentals
Shower Trailer Rental
Restroom Trailer Rental
Security Trailer Rental
Laundry Trailer Rental
Living Quarters
Clear-span Structures Rental
Electric Power Generator
Potable Water Service
Water Trailer Rental 
Mobile Refrigeration Trailer Rentals also has Prefabricated models that can be useful for your business or project. See the list below:
DISHWASHING
Mobile Dish Rooms
Modular Dish Rooms
TEMPORARY CONTROL
Modular Temporary Control Rooms
Mobile Temporary Control Rooms
PODS
Pod Construction
Refrigeration
Temperature Control
Mobile Kitchen
Dish Room
Prep Kitchen
MODULAR
Modular Structures Temporary
Modular Structures Permanent
Pod Construction
TRAILERS
Refrigeration
Temperature Control
Mobile Kitchen
Dish Room
Prep Kitchen
Mobile Refrigeration Trailer Rental  may provide support services in addition to its primary goods, such as:
Ramp – Stairs
Plumbing Accessories
Portable Water
Permit Procurement
Generators
Security Cameras
Lighting
Barricades
Office Trailers
Onsite Installation
So far, you've learned about our goods and our firm. If you have any more concerns or requests about Food Service Refrigeration in the United States, or if you are unable to find the specific goods that meet your requirements, please contact us. We are delighted to assist you.
This Food Service Mobile Refrigeration is a firm that prioritizes customer happiness, and all of our staff are ready to take your call and offer you all of the information you want.
Ice Fox Equipment can provide its products and assistance, if not all, to most cities in Kentucky.

See the list of cities we served in KY below:
Louisville, KY
Lexington, KY
Bowling Green, KY
Owensboro, KY
Covington, KY
Hopkinsville, KY
Richmond, KY
Florence, KY
Georgetown, KY
Henderson, KY
Elizabethtown, KY
Nicholasville, KY
Jeffersontown, KY
Frankfort, KY
Paducah, KY
Independence, KY
Radcliff, KY
Ashland, KY
Madisonville, KY
Winchester, KY
Erlanger, KY
Murray, KY
St. Matthews, KY
Fort Thomas, KY
Danville, KY
Newport, KY
Shively, KY
Shelbyville, KY
Glasgow, KY
Berea, KY
Bardstown, KY
Shepherdsville, KY
Somerset, KY
Lyndon, KY
Lawrenceburg, KY
Middlesboro, KY
Mayfield, KY
Mount Washington, KY
Campbellsville, KY
Maysville, KY
Edgewood, KY
Versailles, KY
Paris, KY
Alexandria, KY
Elsmere, KY
Franklin, KY
Harrodsburg, KY
Fort Mitchell, KY
Hillview, KY
La Grange, KY
London, KY
Oak Grove, KY
Villa Hills, KY
Flatwoods, KY
Corbin, KY
Middletown, KY
Russellville, KY
Highland Heights, KY
Pikeville, KY
Mount Sterling, KY
Morehead, KY
Leitchfield, KY
Taylor Mill, KY
Cynthiana, KY
Princeton, KY
Monticello, KY
Central City, KY
Bellevue, KY
Cold Spring, KY
Fort Wright, KY
Lebanon, KY
Douglass Hills, KY
Union, KY
Dayton, KY
Williamsburg, KY
Prospect, KY
Crestwood, KY
Vine Grove, KY
Hazard, KY
Columbia, KY
Ludlow, KY
Benton, KY
Greenville, KY
Scottsville, KY
Grayson, KY
Hurstbourne, KY
Carrollton, KY
Williamstown, KY
Crittenden, KY
Southgate, KY
Crescent Springs, KY
Wilmore, KY
Walton, KY
Stanford, KY
Paintsville, KY
Lancaster, KY
West Liberty, KY
Beaver Dam, KY
Russell[118], KY
Morganfield, KY
Prestonsburg, KY
Hodgenville, KY
Providence, KY
Barbourville, KY
Crestview Hills, KY
Marion, KY
Wilder, KY
Park Hills, KY
Graymoor-Devondale, KY
Indian Hills, KY
St. Mary, KY
Dawson Springs, KY
Stanton, KY
Irvine, KY
Hartford, KY
Lakeside Park, KY
Flemingsburg, KY
Brandenburg, KY
Calvert City, KY
Cadiz, KY
Eddyville, KY
Springfield, KY
Eminence, KY
Simpsonville, KY
Mount Vernon, KY
Louisa, KY
Fulton, KY
Russell Springs, KY
Raceland, KY
Tompkinsville, KY
Hickman, KY
Morgantown, KY
Windy Hills, KY
Anchorage, KY
Hardinsburg, KY
Horse Cave, KY
Junction City, KY
Cave City, KY
Cumberland, KY
Jackson, KY
Jenkins, KY
Dry Ridge, KY
Falmouth, KY
Liberty, KY
Greensburg, KY
Whitesburg, KY
Elkton, KY
Albany, KY
Pioneer Village, KY
Carlisle, KY
Sturgis, KY
Salyersville, KY
Catlettsburg, KY
Lebanon Junction, KY
Hurstbourne Acres, KY
Jamestown, KY
Harlan, KY
Pineville, KY
Coal Run Village, KY
Lewisport, KY
Midway, KY
Munfordville, KY
Warsaw, KY
Worthington, KY
Sebree, KY
Olive Hill, KY
Edmonton, KY
Orchard Grass Hills, KY
Owingsville, KY
Burkesville, KY
Vanceburg, KY
Jeffersonville, KY
Audubon Park, KY
Loyall, KY
Pewee Valley, KY
St. Regis Park, KY
Worthington Hills, KY
Guthrie, KY
Earlington, KY
Clinton, KY
Livermore, KY
Auburn, KY
Owenton, KY
Beechwood Village, KY
Beattyville, KY
Manchester, KY
West Buechel, KY
Barbourmeade, KY
Brodhead, KY
Nortonville, KY
Augusta, KY
Greenup, KY
Clay, KY
Irvington, KY
Cloverport, KY
South Shore, KY
Silver Grove, KY
Coldstream, KY
Hebron Estates, KY
Camargo, KY
Clay City, KY
Heritage Creek, KY
Ryland Heights, KY
Northfield, KY
LaCenter, KY
Uniontown, KY
Wurtland, KY
Elkhorn City, KY
Watterson Park, KY
Burgin, KY
Evarts, KY
Rolling Hills, KY
Muldraugh, KY
Hawesville, KY
Woodlawn Park, KY
Langdon Place, KY
Ferguson, KY
Lynnview, KY
New Castle, KY
Goshen, KY
Bellefonte, KY
White Plains, KY
Clarkson, KY
Pembroke, KY
Bellemeade, KY
Mortons Gap, KY
New Haven, KY
Adairville, KY
Crab Orchard, KY
Bloomfield, KY
Brownsville, KY
Pleasureville, KY
Plantation, KY
Fincastle, KY
Campbellsburg, KY
Lewisburg, KY
McKee, KY
West Point, KY
Millersburg, KY
Dixon, KY
Hollow Creek, KY
Wheelwright, KY
Hindman, KY
Fleming-Neon, KY
Blue Ridge Manor, KY
Bromley, KY
Calhoun, KY
Taylorsville, KY
Salem, KY
Perryville, KY
Crofton, KY
Lynch, KY
Powderly, KY
Hanson, KY
Meadow Vale, KY
Bardwell, KY
Corydon, KY
Inez, KY
Green Spring, KY
Smiths Grove, KY
Loretto, KY
Seneca Gardens, KY
Woodland Hills, KY
Science Hill, KY
Wickliffe, KY
Upton, KY
Barlow, KY
Sandy Hook, KY
Spring Valley, KY
Parkway Village, KY
Kuttawa, KY
Brownsboro Farm, KY
Strathmoor Village, KY
Rolling Fields, KY
North Middletown, KY
Stamping Ground, KY
Brooksville, KY
Martin, KY
Westwood, KY
Wingo, KY
Hardin, KY
Butler, KY
Burnside, KY
Caneyville, KY
Ravenna, KY
Bedford, KY
Murray Hill, KY
Milton, KY
Wellington, KY
Whitesville, KY
Hollyvilla, KY
Park City, KY
Pippa Passes, KY
Glenview, KY
Fordsville, KY
Drakesboro, KY
Robards, KY
Sonora, KY
Houston Acres, KY
Benham, KY
Bancroft, KY
Frenchburg, KY
Crestview, KY
Sacramento, KY
Island, KY
Plum Springs, KY
Fox Chase, KY
Riverwood, KY
Forest Hills, KY
Campton, KY
Norbourne Estates, KY
Briarwood, KY
Moorland, KY
Wayland, KY
Centertown, KY
Hazel, KY
Hustonville, KY
Richlawn, KY
River Bluff, KY
Fredonia, KY
Melbourne, KY
McHenry, KY
Hunters Hollow, KY
Trenton, KY
Keene, KY
Grand Rivers, KY
Kingsley, KY
Gamaliel, KY
Kevil, KY
Norwood, KY
Hyden, KY
Meadowview Estates, KY
Poplar Hills, KY
Glencoe, KY
Woodburn, KY
Old Brownsboro Place, KY
Strathmoor Manor, KY
Vicco, KY
Arlington, KY
Ghent, KY
Sharpsburg, KY
Bellewood, KY
Brownsboro Village, KY
Eubank, KY
Glenview Hills, KY
Druid Hills, KY
Waverly, KY
Creekside, KY
Sadieville, KY
Salt Lick, KY
Smithland, KY
Mount Olivet, KY
Bradfordsville, KY
Goose Creek, KY
Spring Mill, KY
Willisburg, KY
St. Charles, KY
Broeck Pointe, KY
Warfield, KY
Rockport, KY
Berry, KY
Ewing, KY
Wildwood, KY
Bonnieville, KY
Dover, KY
Sanders, KY
Nebo, KY
Corinth, KY
Sparta, KY
Woodlawn, KY
Livingston, KY
Crossgate, KY
Oakland, KY
Mackville, KY
Fountain Run, KY
Slaughters, KY
Bremen, KY
Allen, KY
Mentor, KY
Glenview Manor, KY
Lakeview Heights, KY
Worthville, KY
South Carrollton, KY
Maryhill Estates, KY
Thornhill, KY
Cambridge, KY
Columbus, KY
Mockingbird Valley, KY
LaFayette, KY
Buckhorn, KY
Prestonville, KY
Sycamore, KY
Wheatcroft, KY
Germantown, KY
Rochester, KY
Lincolnshire, KY
Fairview, KY
Hills and Dales, KY
Manor Creek, KY
Monterey, KY
Meadowbrook Farm, KY
Ekron, KY
Raywick, KY
Blackey, KY
Hickory Hill, KY
Fairfield, KY
Kenton Vale, KY
Smithfield, KY
Sardis, KY
Ten Broeck, KY
Blandville, KY
California, KY
Woodbury, KY
Booneville, KY
Gratz, KY
Carrsville, KY
Blaine, KY
Concord, KY
South Park View, KY
Ice Fox Equipment Leasing & Rental
Top Delivery Service in Kentucky
Top Delivery Service in United States