Shower trailers are a new and cost-effective way to stay clean while traveling. Whether you want a one-person or multiple-person unit, Ice Fox Equipment in Pennsylvania has a variety of options to meet your requirements. In addition, all of our custom-built apartments for sale or lease are long-lasting and useful, with a clean, appealing interior. 
Ice Fox Equipment in Pennsylvania provides excellent shower trailer choices for buy or lease to meet all of your shower trailer requirements. Instant hot water on demand can be installed outside or in a utility room. Our cars are equipped with full ventilation and optional fold-down seats. We may make changes to your portable shower trailer to ensure you get the most out of it. 
Portable and Easy to Setup
Ice Fox Equipment mobile shower trailers in Pennsylvania for sale or lease are a totally portable and lightweight solution for any occasion or scenario that necessitates the attendance of a large number of people. Natural catastrophes, tragedies, and even outdoor concerts might all occur. They can accommodate a large number of people at once and can be set up in less than a half hour, depending on the model. 
Wide Range of Uses
Conferences, festivals, celebrations, site construction, and emergencies all benefit from mobile shower trailers. Ice Fox Equipment in Pennsylvania offers a wide range of toilet trailers for sale or lease to assist meet the demand for dependable, high-performance hygiene facilities in these areas. 
One of the primary benefits of hiring or leasing Ice Fox Equipment shower trailers in Pennsylvania is that they come with their own water tanks. The size of the tank is determined by the number of showers taken, regardless of whether there is clean running water nearby.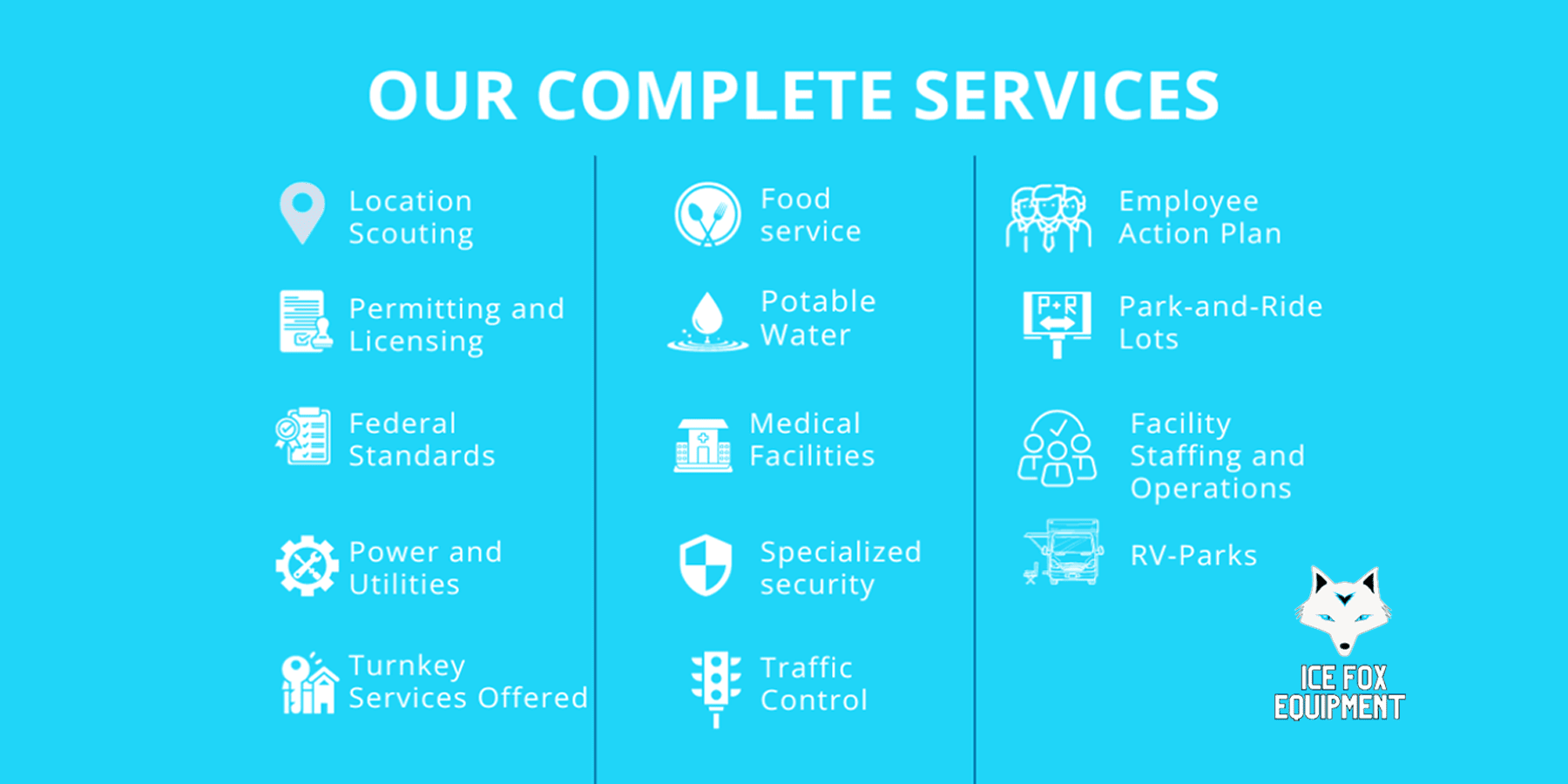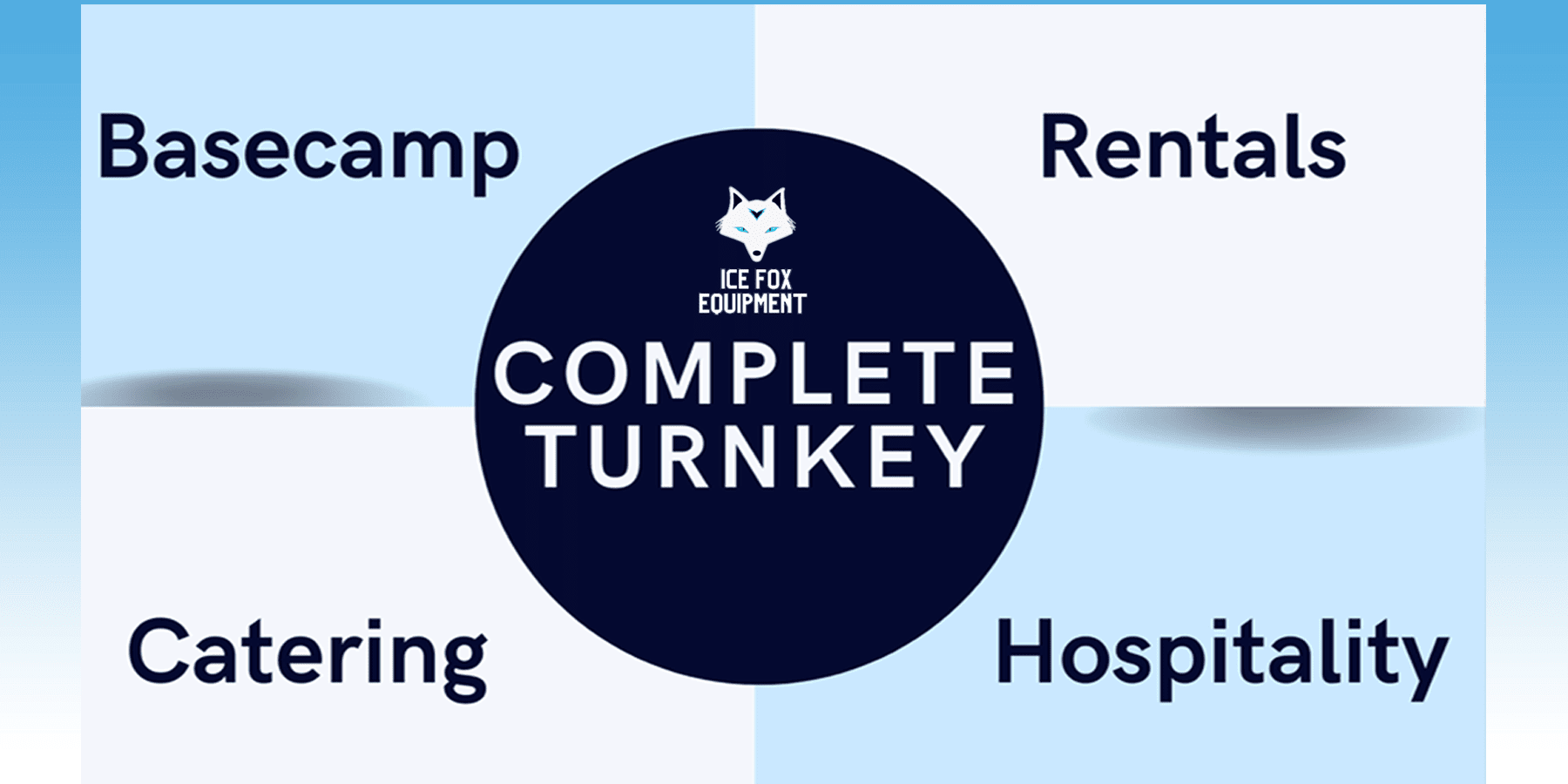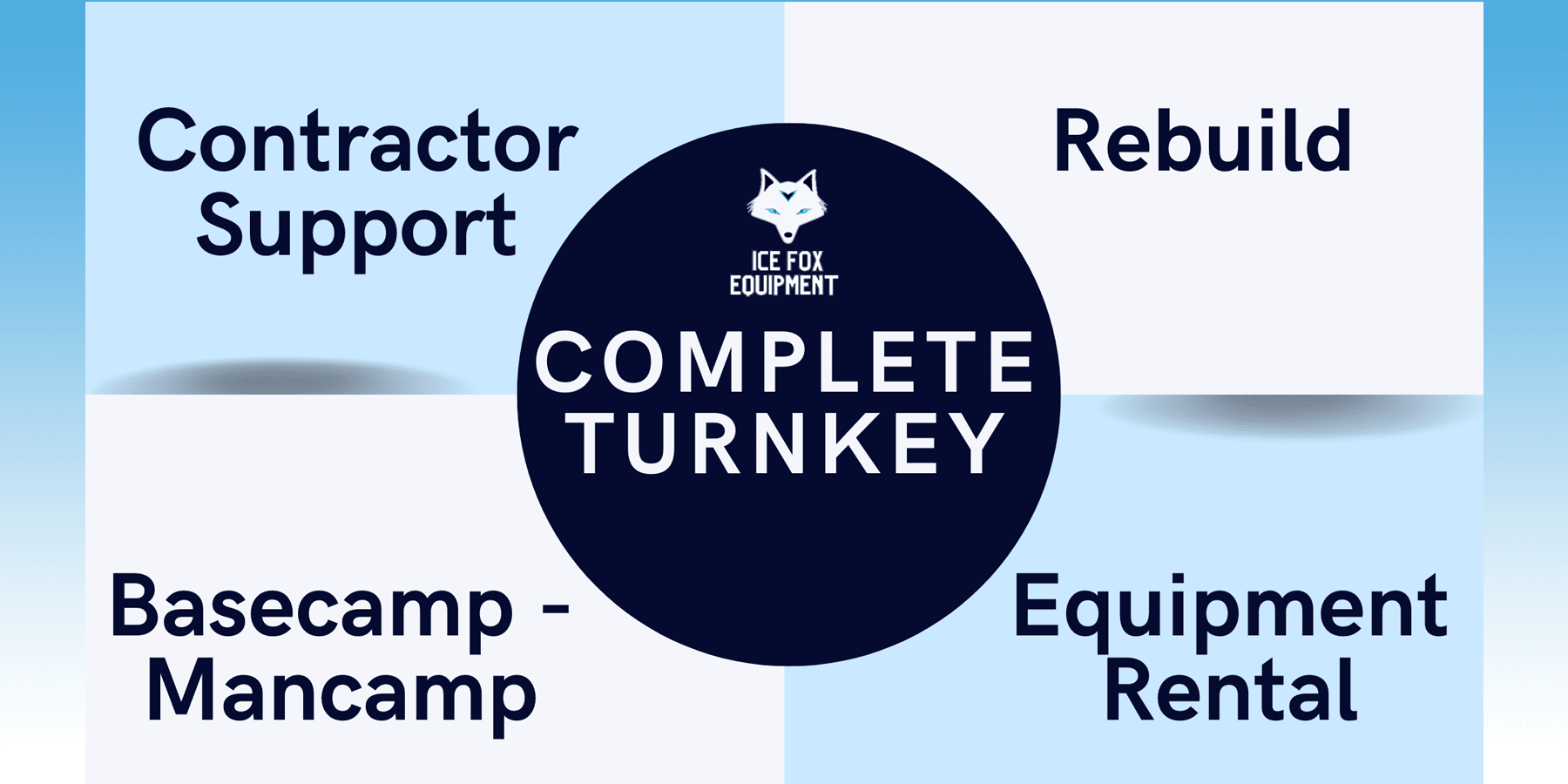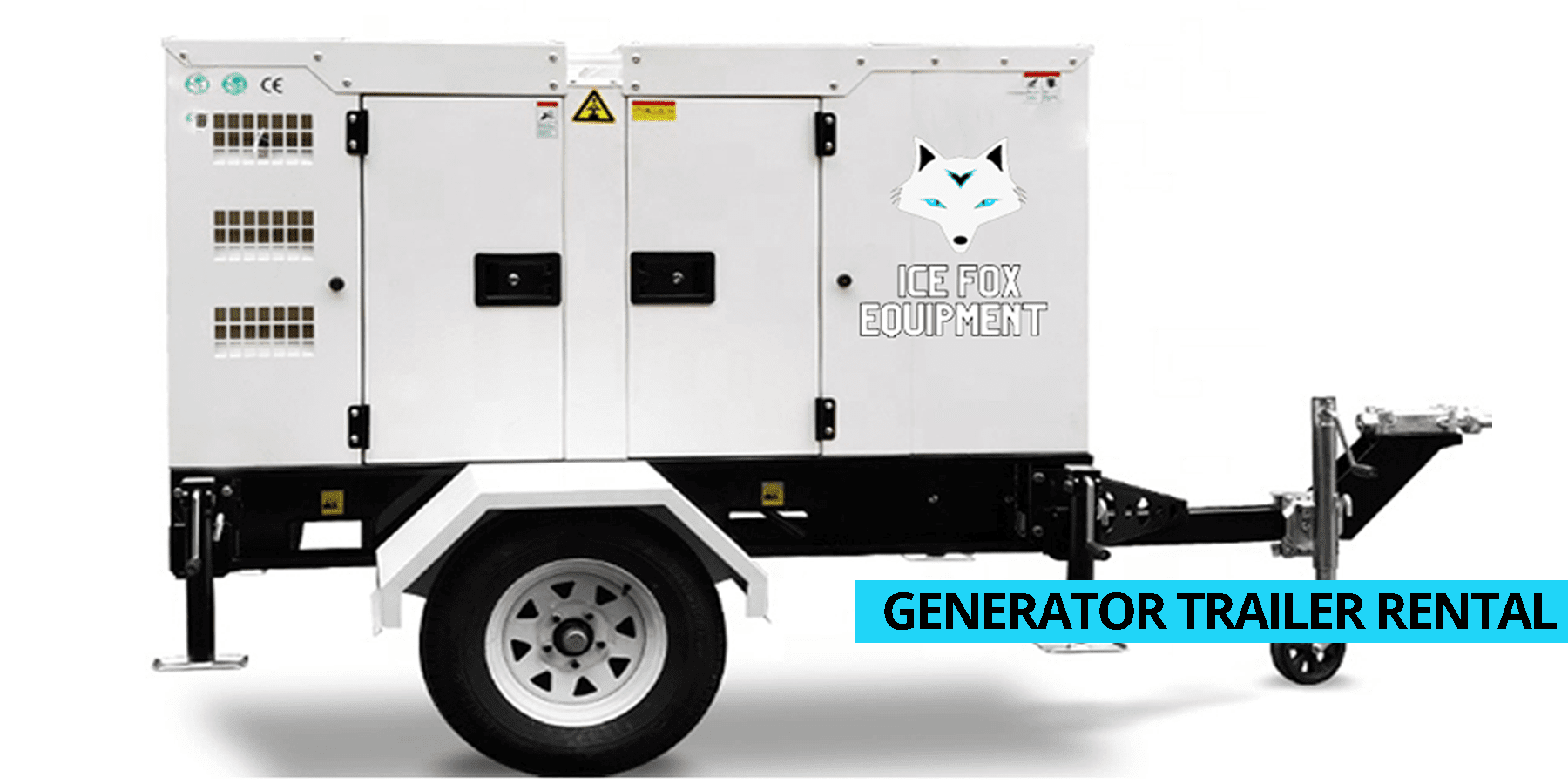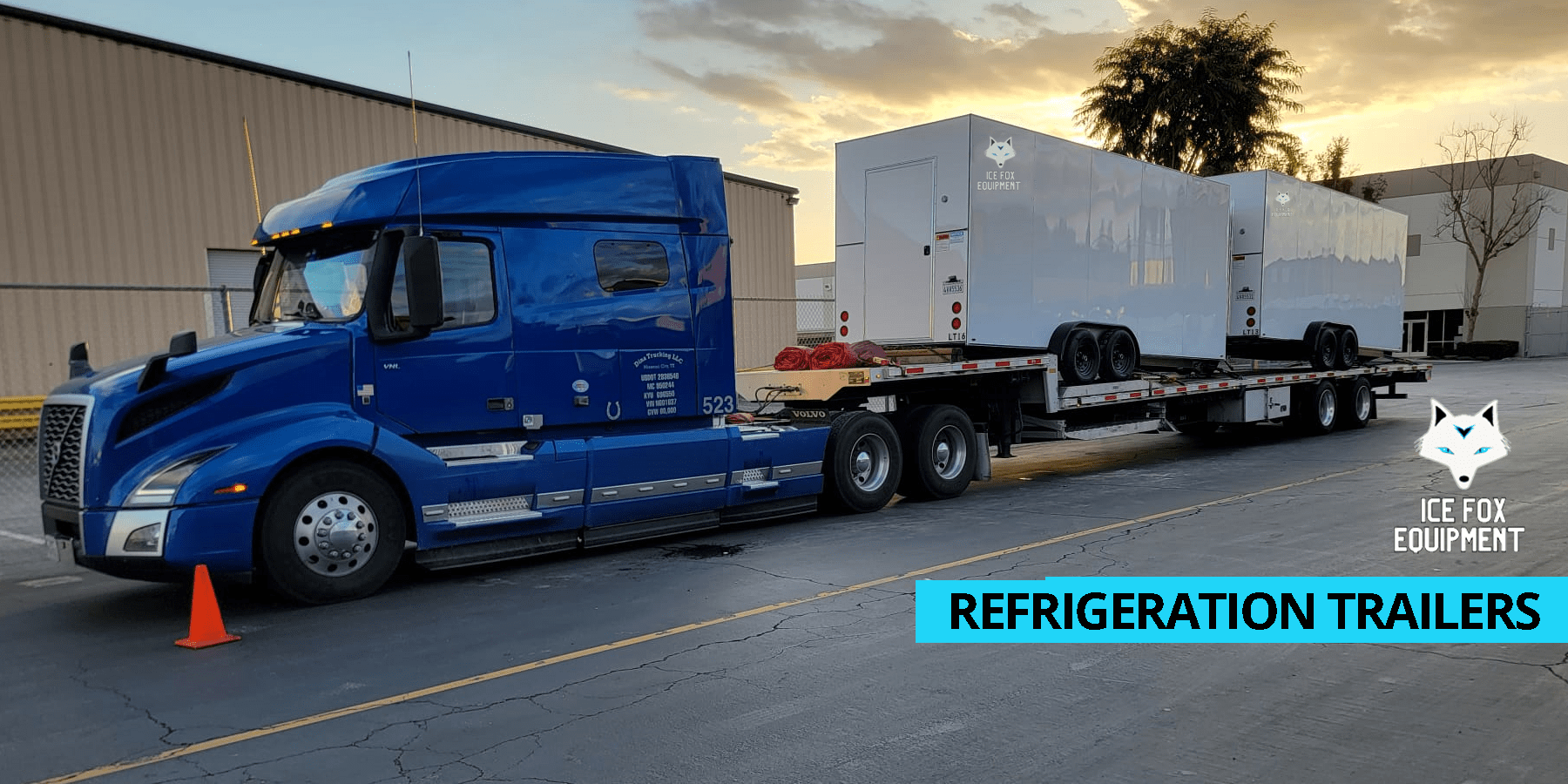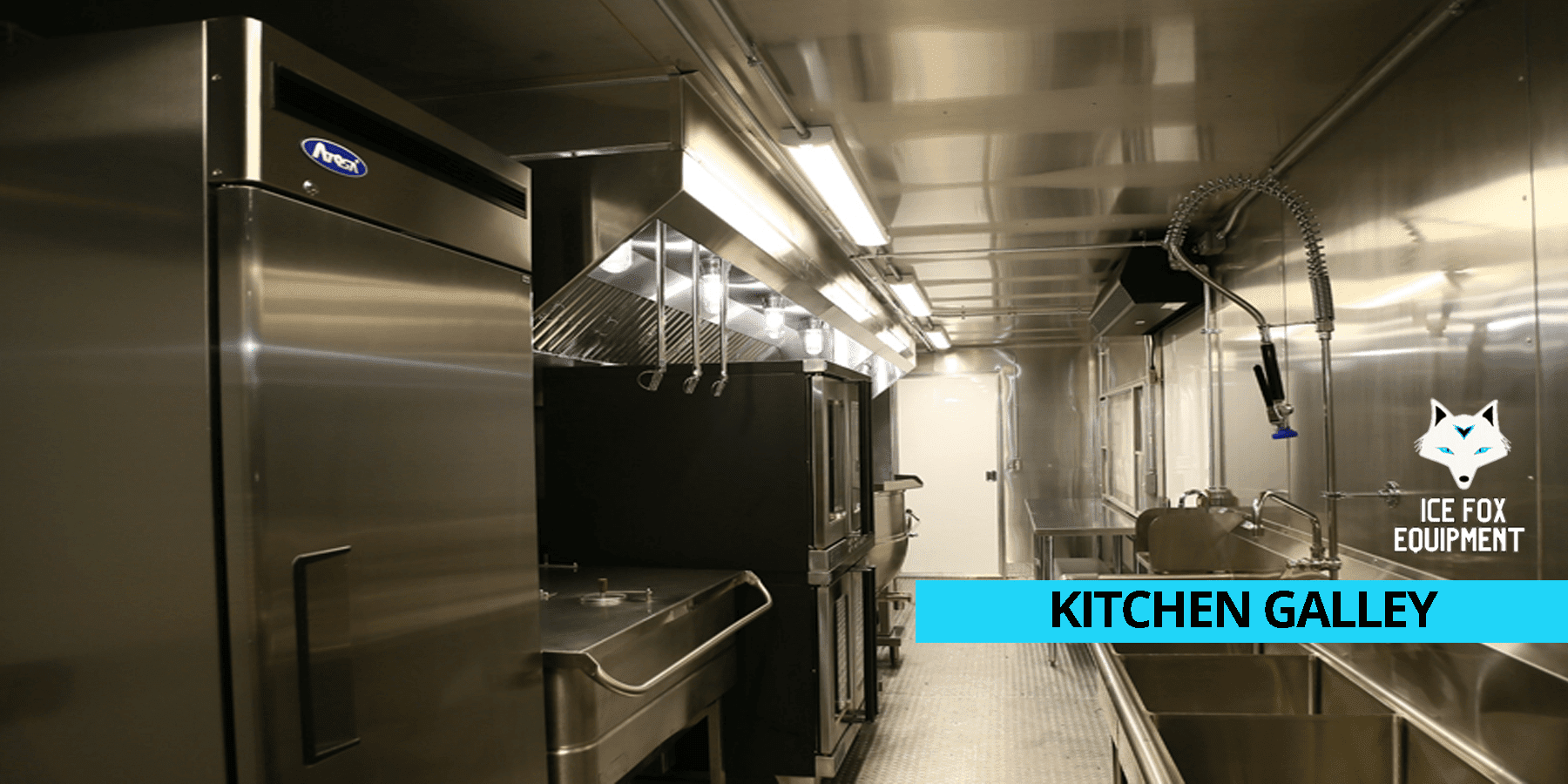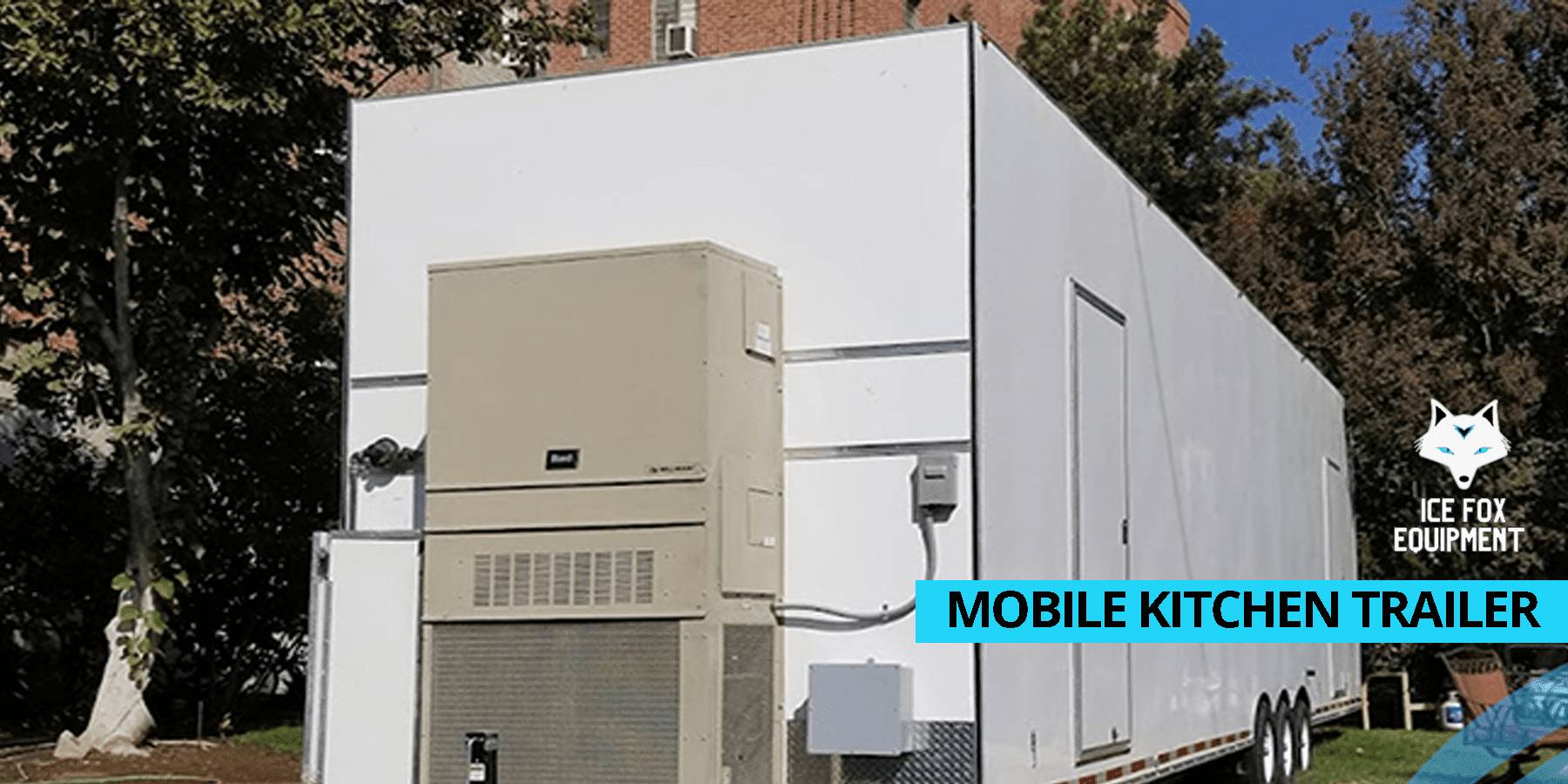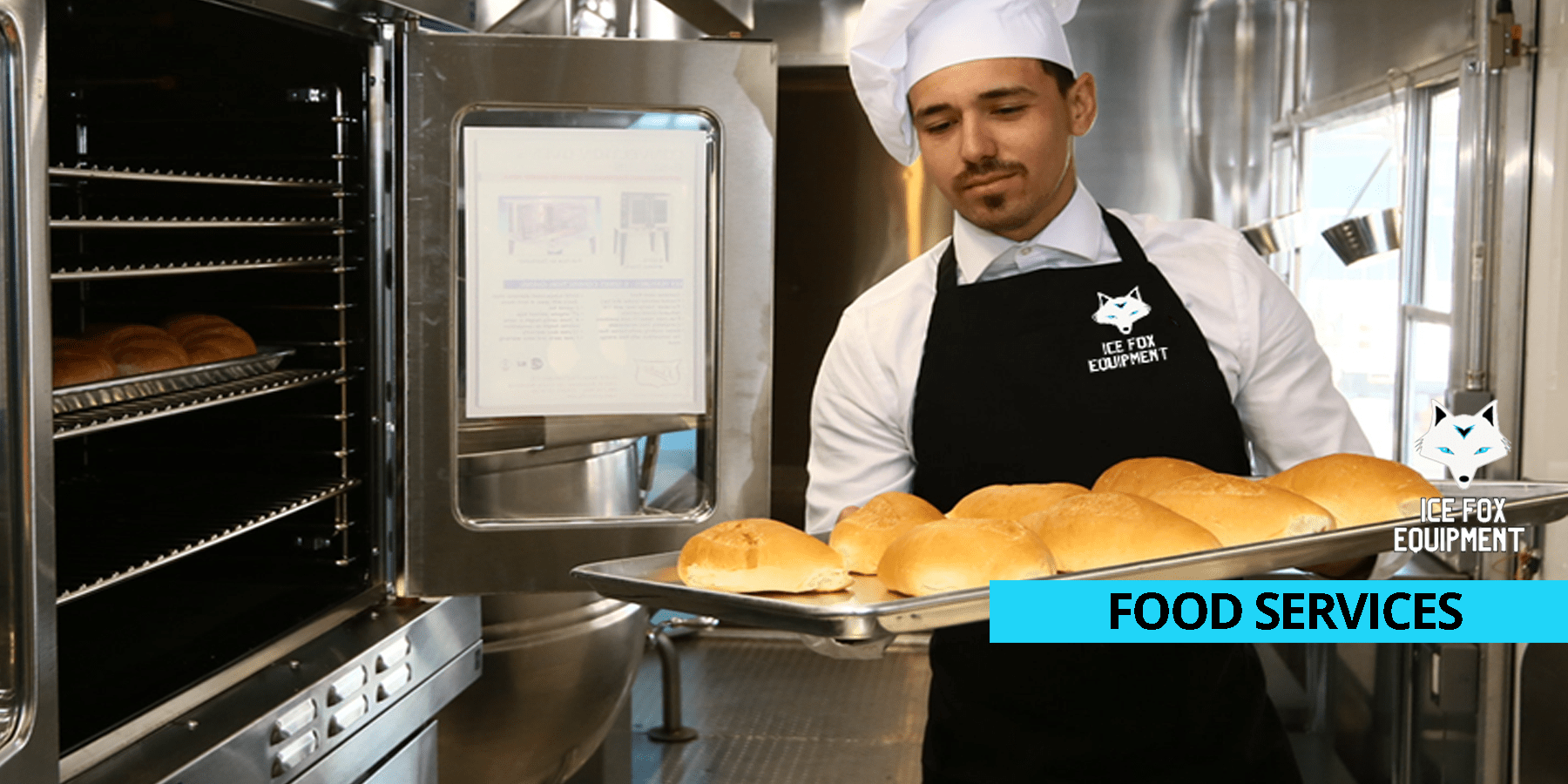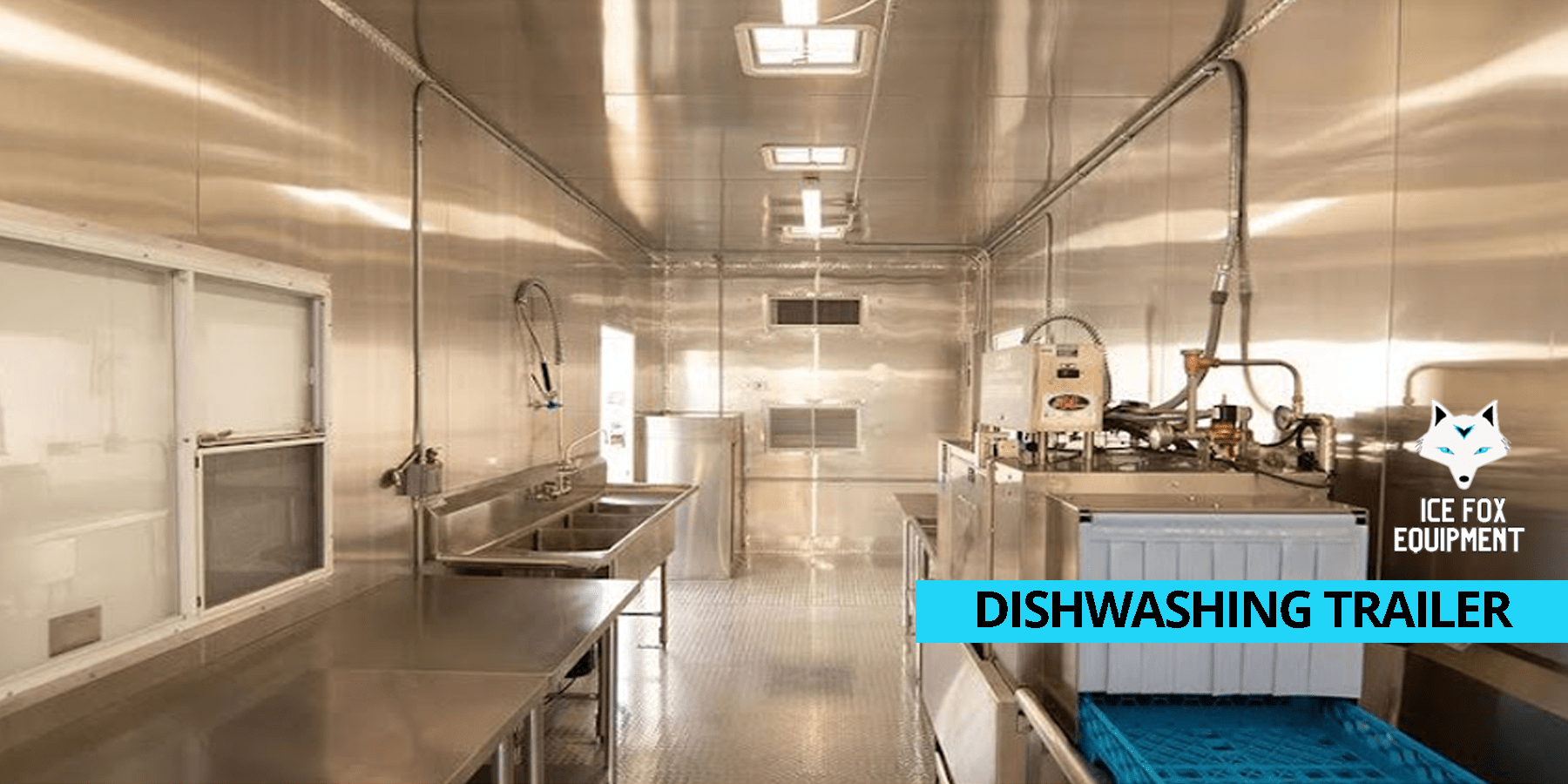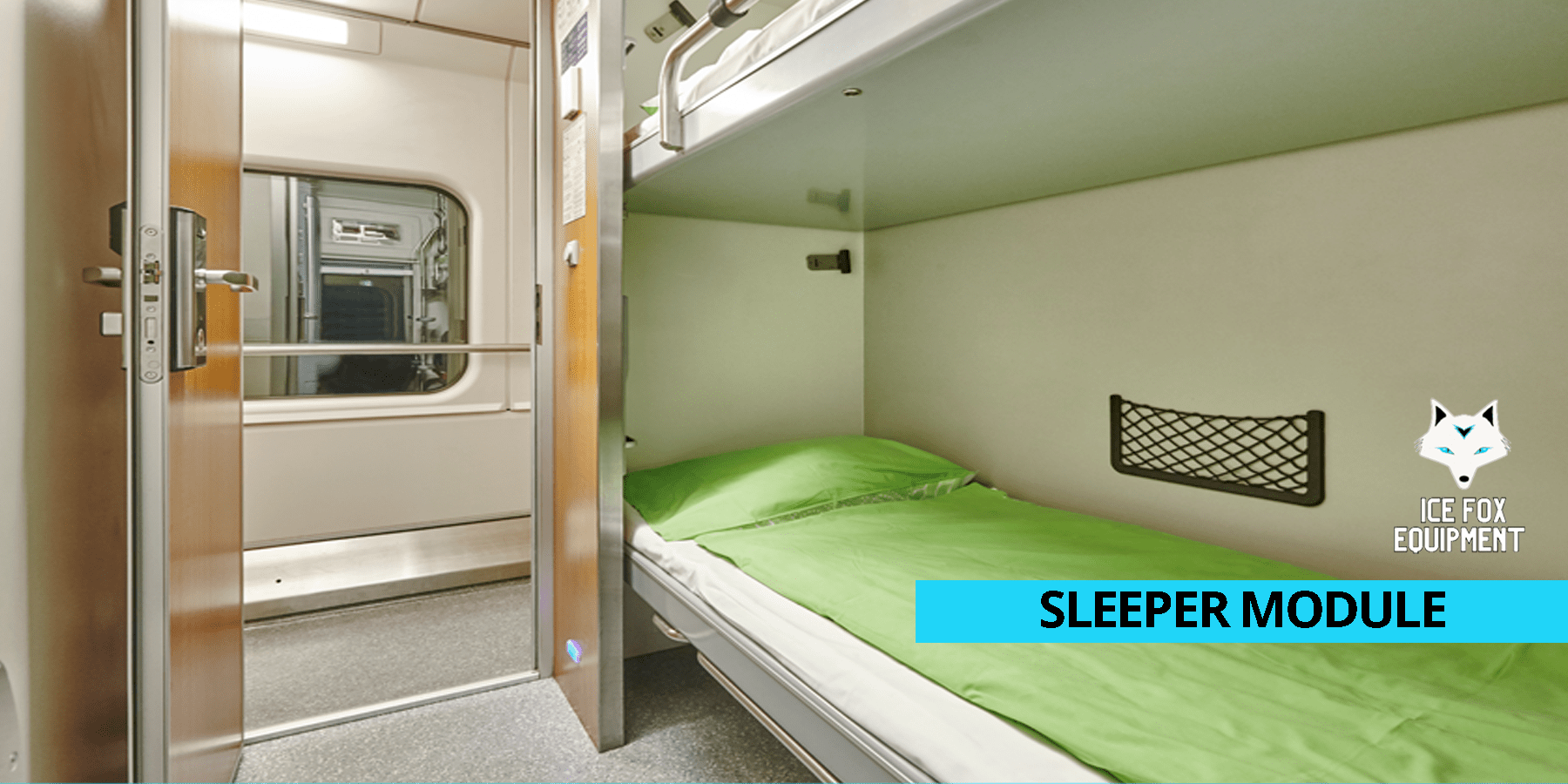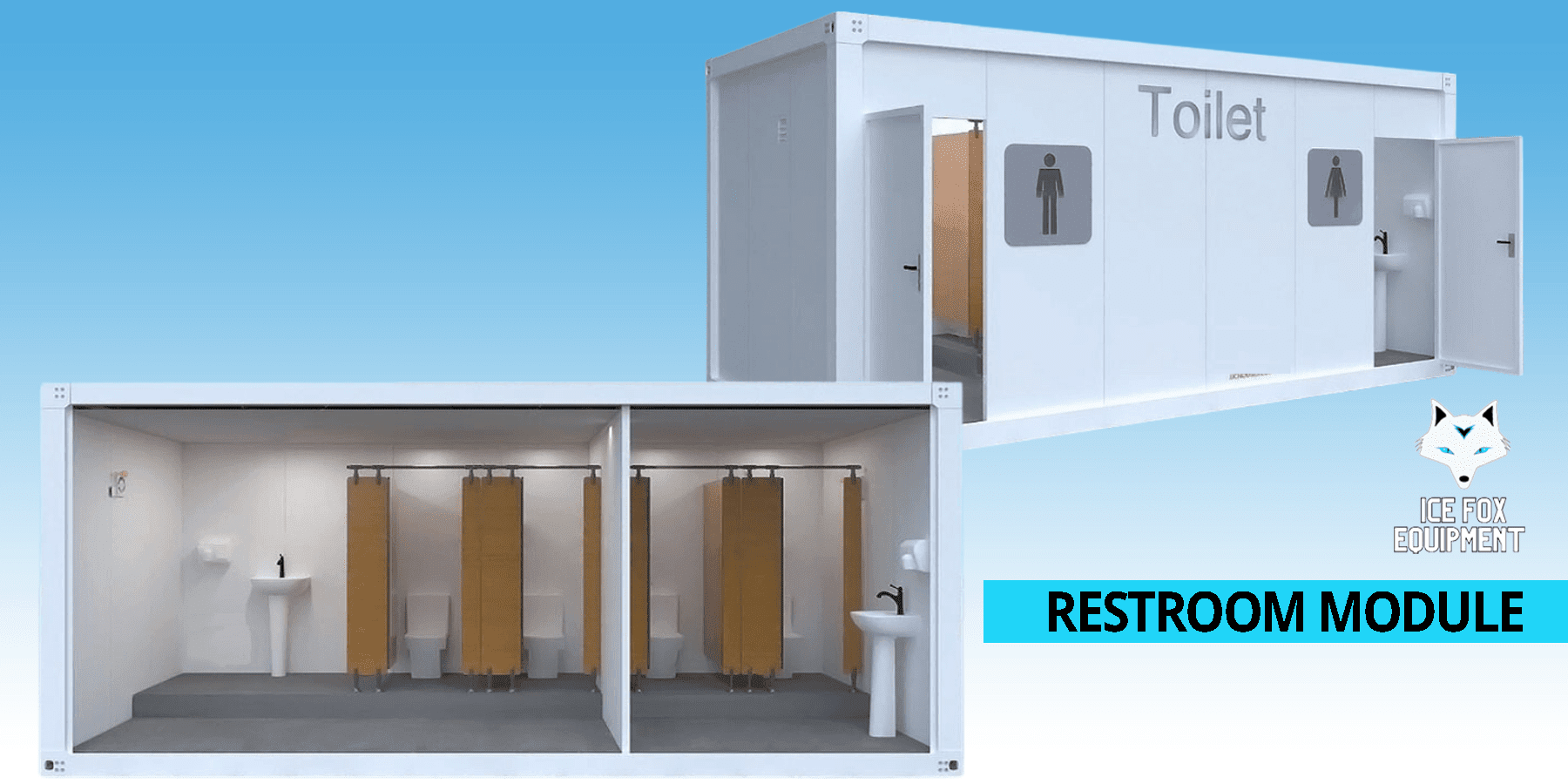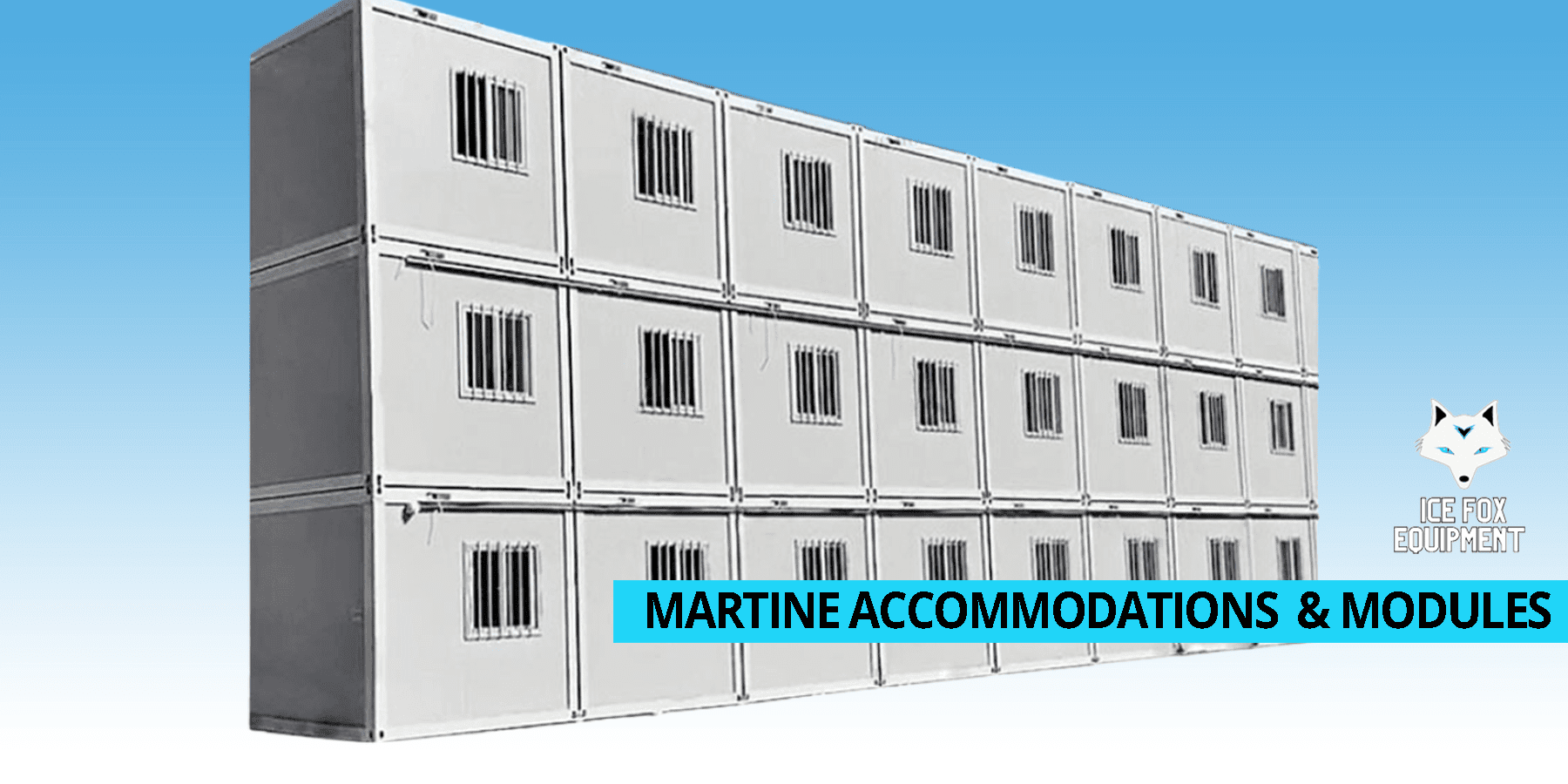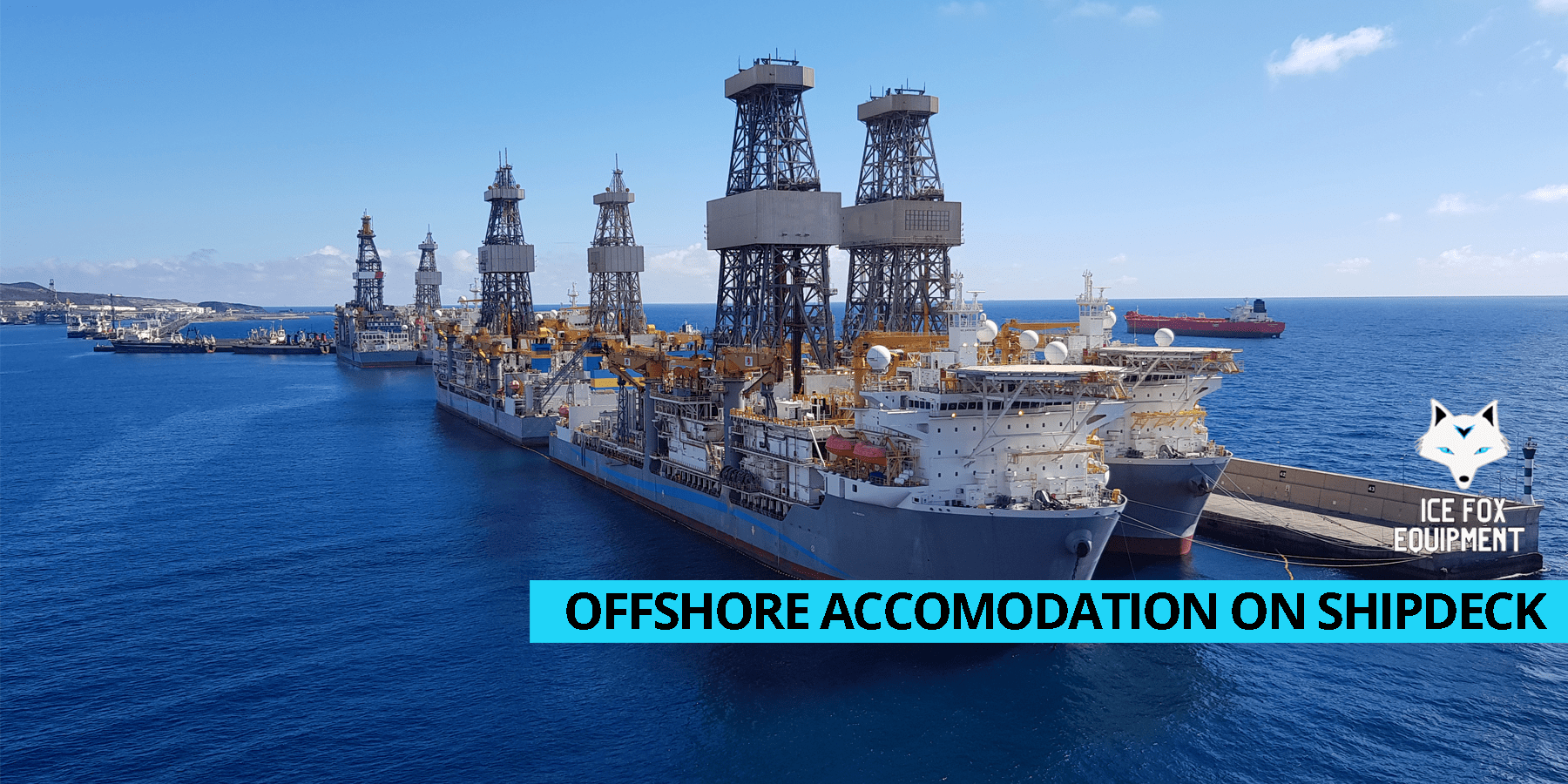 Your Own Clean Water Tanks
There is no need to be concerned about a contaminated local water supply because water tanks have already been erected. Because of the self-contained system of the Ice Fox Equipment trailer in Pennsylvania, your visitors or workers will always be clean and hygienic, regardless of the weather. 
And, based on your specific needs, we can create the greatest one-of-a-kind solution for each case.  
Fully Equipped
Ice Fox Equipment portable shower trailers in Pennsylvania for hire or leasing contain water pumps, soap dispensers, and mirrors to provide good hygiene regardless of location. Our trailers have safety features such as quick intake and hose connections to help reduce accidents while in operation.
Get Clean in Any Location
Our shower trailers may be powered by either electricity or propane, depending on the scenario, so there is no need to worry about finding a power source everywhere. All of your sanitation and hygiene requirements are met by the Ice Fox Equipment shower trailers in Pennsylvania. Whether you're at a fair or rodeo, camping in the country, or even during natural catastrophes like hurricanes and wildfires, Ice Fox Equipment in Pennsylvania is always accessible.
So, if you require shower trailers for any reason, please call Ice Fox Equipment in Pennsylvania as soon as possible to schedule a consultation with one of our specialists.
Temporary Modular Shower Building, Modular Shower Rental,Temporary Modular Locker Rooms, Modular Locker Room Rental, Modular Sleeper Rental, Temporary Modular Sleeper, Bunkhouse Sleepers Rental, Modular Living Facilities Rental, Modular Sleeping Facilities Rental, Temporary Modular Sleeping FacilitiesTemporary Modular Restrooms Rental, Temporary Modular Restroom Buildings, Restroom Building Rentals, Temporary Bunkhouse Sleeper, Temporary Modular Living Facilities.
We Served Portable Shower Trailers in Pennsylvania, USA And It's Cities
Aaronsburg, PA
Abbottstown, PA
Adamsburg, PA
Adamstown, PA
Addison, PA
Akron, PA
Albion, PA
Alburtis, PA
Alexandria, PA
Aliquippa, PA
Allenport, PA
Allentown, PA
Altoona, PA
Ambler, PA
Ambridge, PA
Amity, PA
Annville, PA
Apollo, PA
Archbald, PA
Ardmore, PA
Arendtsville, PA
Aristes, PA
Arona, PA
Ashland, PA
Ashville, PA
Atglen, PA
Auburn, PA
Audubon, PA
Austin, PA
Avis, PA
Avondale, PA
Avonmore, PA
Baden, PA
Bally, PA
Bangor, PA
Bath, PA
Beallsville, PA
Bear Creek, PA
Beaver Falls, PA
Beaver Meadows, PA
Beaver Springs, PA
Beaver, PA
Beaverdale, PA
Beavertown, PA
Bechtelsville, PA
Beech Creek, PA
Belle Vernon, PA
Bellefonte, PA
Belleville, PA
Bellwood, PA
Bendersville, PA
Bentleyville, PA
Benton, PA
Berlin, PA
Bernville, PA
Berrysburg, PA
Berwick, PA
Bessemer, PA
Bethel Park, PA
Bethlehem, PA
Big Run, PA
Biglerville, PA
Birdsboro, PA
Black Lick, PA
Blain, PA
Blairsville, PA
Blanchard, PA
Blooming Glen, PA
Bloomsburg, PA
Blossburg, PA
Blue Bell, PA
Boalsburg, PA
Boiling Springs, PA
Bolivar, PA
Boswell, PA
Bowmanstown, PA
Boyertown, PA
Brackenridge, PA
Braddock, PA
Bradford, PA
Bradfordwoods, PA
Branchdale, PA
Bridgeport, PA
Brisbin, PA
Bristol, PA
Broad Top, PA
Brockway, PA
Brodheadsville, PA
Brookhaven, PA
Brookville, PA
Broomall, PA
Brownstown, PA
Brownsville, PA
Bruin, PA
Bryn Athyn, PA
Bryn Mawr, PA
Burgettstown, PA
Burnham, PA
Burnside, PA
Butler, PA
California, PA
Callensburg, PA
Callery, PA
Calumet, PA
Cambridge Springs, PA
Camp Hill, PA
Campbelltown, PA
Canonsburg, PA
Canton, PA
Carbondale, PA
Carlisle, PA
Carmichaels, PA
Carnegie, PA
Carrolltown, PA
Cashtown, PA
Catasauqua, PA
Catawissa, PA
Cecil, PA
Centerport, PA
Centerville, PA
Central City, PA
Centre Hall, PA
Chalfont, PA
Chambersburg, PA
Charleroi, PA
Cherry Tree, PA
Chester Heights, PA
Chester, PA
Chicora, PA
Christiana, PA
Clairton, PA
Clarence, PA
Clarendon, PA
Clarion, PA
Clark, PA
Clarks Summit, PA
Clarksville, PA
Claysburg, PA
Claysville, PA
Clearfield, PA
Clifton Heights, PA
Clintonville, PA
Clymer, PA
Coaldale, PA
Coalport, PA
Coatesville, PA
Cochranton, PA
Cokeburg, PA
Collegeville, PA
Columbia, PA
Colver, PA
Commodore, PA
Confluence, PA
Conneaut Lake, PA
Conneautville, PA
Connellsville, PA
Connoquenessing, PA
Conshohocken, PA
Conway, PA
Conyngham, PA
Coopersburg, PA
Cooperstown, PA
Coplay, PA
Coraopolis, PA
Cornwall, PA
Corry, PA
Corsica, PA
Coudersport, PA
Crabtree, PA
Cranesville, PA
Creekside, PA
Cresson, PA
Cressona, PA
Croydon, PA
Curtisville, PA
Curwensville, PA
Daisytown, PA
Dallas, PA
Dallastown, PA
Dalton, PA
Danville, PA
Darby, PA
Darlington, PA
Dauphin, PA
Davidsville, PA
Dawson, PA
Dayton, PA
Delano, PA
Delaware Water Gap, PA
Delmont, PA
Delta, PA
Denver, PA
Derry, PA
Dickson City, PA
Dillsburg, PA
Donora, PA
Dover, PA
Doylestown, PA
Dravosburg, PA
Drexel Hill, PA
Du Bois, PA
Dublin, PA
Dunbar, PA
Duncannon, PA
Duncansville, PA
Dunlevy, PA
Duquesne, PA
Duryea, PA
Dushore, PA
Eagleville, PA
East Berlin, PA
East Brady, PA
East Butler, PA
East Greenville, PA
East Mc Keesport, PA
East Petersburg, PA
East Pittsburgh, PA
East Prospect, PA
East Stroudsburg, PA
East Vandergrift, PA
Easton, PA
Eau Claire, PA
Ebensburg, PA
Edinboro, PA
Elco, PA
Elderton, PA
Eldred, PA
Elgin, PA
Elizabeth, PA
Elizabethtown, PA
Elizabethville, PA
Elkland, PA
Ellsworth, PA
Ellwood City, PA
Elysburg, PA
Emigsville, PA
Emlenton, PA
Emmaus, PA
Emporium, PA
Enola, PA
Enon Valley, PA
Ephrata, PA
Erie, PA
Ernest, PA
Evans City, PA
Everett, PA
Everson, PA
Export, PA
Exton, PA
Factoryville, PA
Fairchance, PA
Fairfield, PA
Fairless Hills, PA
Fairview, PA
Falls Creek, PA
Farrell, PA
Fawn Grove, PA
Fayette City, PA
Fayetteville, PA
Feasterville Trevose, PA
Felton, PA
Ferndale, PA
Finleyville, PA
Fleetwood, PA
Flourtown, PA
Folcroft, PA
Folsom, PA
Ford City, PA
Ford Cliff, PA
Forest City, PA
Forest Grove, PA
Forestville, PA
Fort Washington, PA
Foxburg, PA
Frackville, PA
Franklin, PA
Franklintown, PA
Fredericksburg, PA
Fredericktown, PA
Fredonia, PA
Freeburg, PA
Freedom, PA
Freeland, PA
Freeport, PA
Friedens, PA
Friedensburg, PA
Galeton, PA
Gallitzin, PA
Gap, PA
Garrett, PA
Gastonville, PA
Gettysburg, PA
Gilberton, PA
Gilbertsville, PA
Girard, PA
Glassport, PA
Glen Campbell, PA
Glen Lyon, PA
Glen Rock, PA
Glenolden, PA
Glenside, PA
Gordon, PA
Grampian, PA
Grapeville, PA
Gratz, PA
Great Bend, PA
Green Lane, PA
Greensburg, PA
Greenville, PA
Grindstone, PA
Grove City, PA
Halifax, PA
Hallstead, PA
Hamburg, PA
Hanover, PA
Harleysville, PA
Harmonsburg, PA
Harmony, PA
Harrisburg, PA
Harrisville, PA
Hartleton, PA
Hartstown, PA
Harveys Lake, PA
Hastings, PA
Hatboro, PA
Hatfield, PA
Hawley, PA
Hawthorn, PA
Hazleton, PA
Heilwood, PA
Hellertown, PA
Herminie, PA
Hermitage, PA
Herndon, PA
Hershey, PA
Highspire, PA
Hiller, PA
Hollidaysburg, PA
Homer City, PA
Homestead, PA
Honesdale, PA
Honey Brook, PA
Hooversville, PA
Hop Bottom, PA
Hopewell, PA
Hopwood, PA
Horsham, PA
Houston, PA
Houtzdale, PA
Howard, PA
Hughesville, PA
Hummels Wharf, PA
Hummelstown, PA
Hunker, PA
Huntingdon, PA
Hyde Park, PA
Hyde, PA
Hydetown, PA
Hyndman, PA
Imperial, PA
Jackson Center, PA
Jackson, PA
Jamestown, PA
Jeannette, PA
Jefferson, PA
Jenkintown, PA
Jennerstown, PA
Jermyn, PA
Jerome, PA
Jersey Shore, PA
Jessup, PA
Jim Thorpe, PA
Johnsonburg, PA
Johnstown, PA
Jonestown, PA
Kane, PA
King Of Prussia, PA
Kingston, PA
Kittanning, PA
Knox, PA
Knoxville, PA
Koppel, PA
Kreamer, PA
Kulpmont, PA
Kulpsville, PA
Kutztown, PA
Laceyville, PA
Lake City, PA
Lancaster, PA
Lanesboro, PA
Langhorne, PA
Lansdale, PA
Lansdowne, PA
Lansford, PA
Laporte, PA
Latrobe, PA
Lavelle, PA
Lawrenceville, PA
Lawton, PA
Le Raysville, PA
Lebanon, PA
Leechburg, PA
Leesport, PA
Leetsdale, PA
Lehighton, PA
Lemont, PA
Lemoyne, PA
Levittown, PA
Lewis Run, PA
Lewisberry, PA
Lewisburg, PA
Lewistown, PA
Liberty, PA
Light Street, PA
Ligonier, PA
Lilly, PA
Linesville, PA
Lionville, PA
Lititz, PA
Little Meadows, PA
Littlestown, PA
Liverpool, PA
Lock Haven, PA
Loganton, PA
Loganville, PA
Loretto, PA
Lucernemines, PA
Luzerne, PA
Lykens, PA
Lyon Station, PA
Macungie, PA
Madison, PA
Mahaffey, PA
Mahanoy City, PA
Malvern, PA
Manchester, PA
Manheim, PA
Manns Choice, PA
Manor, PA
Mansfield, PA
Mapleton Depot, PA
Marcus Hook, PA
Marianna, PA
Marietta, PA
Marion Center, PA
Marion Heights, PA
Markleysburg, PA
Mars, PA
Martin, PA
Martinsburg, PA
Marysville, PA
Masontown, PA
Matamoras, PA
Maytown, PA
Mc Alisterville, PA
Mc Clure, PA
Mc Connellsburg, PA
Mc Donald, PA
Mc Ewensville, PA
Mc Kean, PA
Mc Kees Rocks, PA
Mc Keesport, PA
Mc Sherrystown, PA
Mc Veytown, PA
Meadville, PA
Mechanicsburg, PA
Mechanicsville, PA
Media, PA
Mercer, PA
Mercersburg, PA
Meshoppen, PA
Mexico, PA
Meyersdale, PA
Middleburg, PA
Middleport, PA
Middletown, PA
Midland, PA
Midway, PA
Mifflin, PA
Mifflinburg, PA
Mifflintown, PA
Mifflinville, PA
Milesburg, PA
Milford, PA
Mill Creek, PA
Mill Hall, PA
Mill Village, PA
Millersburg, PA
Millerstown, PA
Millersville, PA
Millheim, PA
Millville, PA
Milroy, PA
Milton, PA
Minersville, PA
Modena, PA
Mohnton, PA
Monaca, PA
Monessen, PA
Monongahela, PA
Monroeville, PA
Mont Alto, PA
Montgomery, PA
Montgomeryville, PA
Montoursville, PA
Montrose, PA
Moosic, PA
Morrisville, PA
Morton, PA
Moscow, PA
Mount Carmel, PA
Mount Gretna, PA
Mount Holly Springs, PA
Mount Jewett, PA
Mount Joy, PA
Mount Pleasant Mills, PA
Mount Pleasant, PA
Mount Pocono, PA
Mount Union, PA
Mount Wolf, PA
Mountainhome, PA
Mountville, PA
Muncy, PA
Myerstown, PA
Nanticoke, PA
Nanty Glo, PA
Narberth, PA
Nazareth, PA
Nemacolin, PA
Nescopeck, PA
Nesquehoning, PA
New Albany, PA
New Alexandria, PA
New Berlin, PA
New Bethlehem, PA
New Brighton, PA
New Castle, PA
New Columbia, PA
New Cumberland, PA
New Eagle, PA
New Florence, PA
New Freedom, PA
New Galilee, PA
New Holland, PA
New Hope, PA
New Kensington, PA
New Kingstown, PA
New Milford, PA
New Oxford, PA
New Paris, PA
New Philadelphia, PA
New Ringgold, PA
New Salem, PA
New Stanton, PA
New Wilmington, PA
Newburg, PA
Newell, PA
Newmanstown, PA
Newport, PA
Newry, PA
Newton Hamilton, PA
Newtown, PA
Newville, PA
Nicholson, PA
Norristown, PA
North Apollo, PA
North East, PA
North Versailles, PA
North Wales, PA
Northampton, PA
Northern Cambria, PA
Northumberland, PA
Norwood, PA
Numidia, PA
Nuremberg, PA
Oakdale, PA
Oakmont, PA
Oil City, PA
Old Forge, PA
Oliver, PA
Olyphant, PA
Oneida, PA
Orangeville, PA
Orbisonia, PA
Oreland, PA
Orrstown, PA
Orwigsburg, PA
Osceola Mills, PA
Oxford, PA
Palmerton, PA
Palmyra, PA
Paoli, PA
Paradise, PA
Parker, PA
Parkesburg, PA
Parryville, PA
Patton, PA
Paxtonville, PA
Pen Argyl, PA
Penn, PA
Penns Creek, PA
Pennsburg, PA
Perkasie, PA
Perryopolis, PA
Petersburg, PA
Petrolia, PA
Philadelphia, PA
Philipsburg, PA
Phoenixville, PA
Picture Rocks, PA
Pillow, PA
Pine Grove Mills, PA
Pine Grove, PA
Pitcairn, PA
Pittsburgh, PA
Pittston, PA
Plainfield, PA
Pleasantville, PA
Plumville, PA
Plymouth Meeting, PA
Plymouth, PA
Pocono Pines, PA
Point Marion, PA
Polk, PA
Port Allegany, PA
Port Clinton, PA
Port Matilda, PA
Port Royal, PA
Port Trevorton, PA
Portage, PA
Portersville, PA
Portland, PA
Potts Grove, PA
Pottstown, PA
Pottsville, PA
Prompton, PA
Prospect Park, PA
Prospect, PA
Punxsutawney, PA
Quakertown, PA
Quarryville, PA
Quentin, PA
Railroad, PA
Ramey, PA
Ravine, PA
Reading, PA
Reamstown, PA
Rebersburg, PA
Red Hill, PA
Red Lion, PA
Reedsville, PA
Renovo, PA
Republic, PA
Reynoldsville, PA
Rheems, PA
Rices Landing, PA
Richboro, PA
Richfield, PA
Richland, PA
Richlandtown, PA
Ridgway, PA
Ridley Park, PA
Riegelsville, PA
Rimersburg, PA
Ringtown, PA
Riverside, PA
Roaring Spring, PA
Robesonia, PA
Robinson, PA
Rochester, PA
Rockhill Furnace, PA
Rockwood, PA
Rome, PA
Roscoe, PA
Rossiter, PA
Rouseville, PA
Rouzerville, PA
Royersford, PA
Rural Valley, PA
Russellton, PA
Saint Clair, PA
Saint Marys, PA
Saint Michael, PA
Saint Petersburg, PA
Salisbury, PA
Saltillo, PA
Saltsburg, PA
Sandy Lake, PA
Sandy Ridge, PA
Saxonburg, PA
Sayre, PA
Schaefferstown, PA
Schellsburg, PA
Schnecksville, PA
Schuylkill Haven, PA
Schwenksville, PA
Scottdale, PA
Scranton, PA
Selinsgrove, PA
Sellersville, PA
Seltzer, PA
Seneca, PA
Seven Valleys, PA
Seward, PA
Sewickley, PA
Shamokin Dam, PA
Shamokin, PA
Shanksville, PA
Sharon Hill, PA
Sharon, PA
Sharpsville, PA
Sheffield, PA
Shenandoah, PA
Sheppton, PA
Shickshinny, PA
Shippenville, PA
Shippingport, PA
Shoemakersville, PA
Silverdale, PA
Skippack, PA
Slatington, PA
Slickville, PA
Sligo, PA
Slippery Rock, PA
Smethport, PA
Smithfield, PA
Smithton, PA
Snow Shoe, PA
Snydertown, PA
Somerset, PA
Souderton, PA
South Fork, PA
South Heights, PA
South Park, PA
Southwest, PA
Spartansburg, PA
Spring City, PA
Spring Grove, PA
Spring House, PA
Spring Mills, PA
Spring Mount, PA
Springboro, PA
Springdale, PA
Springfield, PA
Starrucca, PA
State College, PA
Stewartstown, PA
Stockdale, PA
Stockertown, PA
Stoneboro, PA
Stoystown, PA
Strasburg, PA
Strattanville, PA
Strausstown, PA
Stroudsburg, PA
Sturgeon, PA
Sugar Grove, PA
Summerhill, PA
Summerville, PA
Summit Hill, PA
Summit Station, PA
Sunbury, PA
Susquehanna, PA
Sutersville, PA
Swarthmore, PA
Sykesville, PA
Tamaqua, PA
Tarentum, PA
Tatamy, PA
Taylor, PA
Telford, PA
Terre Hill, PA
Thompson, PA
Thompsontown, PA
Three Springs, PA
Tidioute, PA
Tioga, PA
Tionesta, PA
Tipton, PA
Titusville, PA
Topton, PA
Toughkenamon, PA
Towanda, PA
Tower City, PA
Townville, PA
Trafford, PA
Tremont, PA
Tresckow, PA
Trevorton, PA
Troutville, PA
Troy, PA
Trumbauersville, PA
Tunkhannock, PA
Turbotville, PA
Turtle Creek, PA
Tuscarora, PA
Tyrone, PA
Ulysses, PA
Union City, PA
Union Dale, PA
Uniontown, PA
Ursina, PA
Utica, PA
Valencia, PA
Valley View, PA
Vanderbilt, PA
Vandergrift, PA
Venango, PA
Verona, PA
Vintondale, PA
Wallaceton, PA
Walnutport, PA
Wampum, PA
Warminster, PA
Warren, PA
Washington, PA
Washingtonville, PA
Waterford, PA
Watsontown, PA
Wattsburg, PA
Waymart, PA
Wayne, PA
Waynesboro, PA
Waynesburg, PA
Weatherly, PA
Wellsboro, PA
Wellsville, PA
Wernersville, PA
West Alexander, PA
West Chester, PA
West Elizabeth, PA
West Grove, PA
West Middlesex, PA
West Mifflin, PA
West Newton, PA
Westfield, PA
Westover, PA
Wheatland, PA
White Haven, PA
White, PA
Whitehall, PA
Wilkes Barre, PA
Williamsburg, PA
Williamsport, PA
Williamstown, PA
Willow Grove, PA
Willow Street, PA
Wilmerding, PA
Wilmore, PA
Wind Gap, PA
Windber, PA
Windsor, PA
Womelsdorf, PA
Wood, PA
Woodbury, PA
Woodland, PA
Woodlyn, PA
Worthington, PA
Wrightsville, PA
Wyalusing, PA
Wyncote, PA
Wyoming, PA
Yeagertown, PA
York Haven, PA
York Springs, PA
York, PA
Youngstown, PA
Youngsville, PA
Youngwood, PA
Zelienople, PA
Zion Grove, PA