The general public was in mind when we designed our Ice Fox Equipment portable restroom trailers in Colorado. They may be utilized for practically any situation. They are made to be tough enough to survive even the most demanding public events while yet being fashionable enough to be used at weddings. When developing our one-of-a-kind trailers, Ice Fox Equipment in Colorado draws on our significant experience renting toilet trailers.   
We made almost all of the component components replaceable using stuff available at hardware shops to avoid having to wait for a proprietary part from the manufacturer if a replacement is required.
Features of our Ice Fox Equipment  portable restrooms in Colorado for sale or rent: 
Easy to install: Self-leveling stairs are easy to install on uneven terrain or near a curb since they come out in seconds and automatically level themselves. Our fold-out rails are quick and simple to install, and the position of the stabilizer jack allows for complete access. A level is the sole tool necessary for setup.
Easy to clean: The fiberglass has been gel coated to provide a long-lasting, smooth surface that repels dirt and is simple to clean with a cloth and household cleaner.
Durability: Our portable restrooms for sale or rent all include a steel frame and gel-coated fiberglass on the interior and outside walls, ceiling, flooring, and roof.
Easy Maintenance: Our portable restroom Ice Fox Equipment was created to be low-maintenance. Our big mechanical room door gives simple access to all trailer components when repairs are necessary.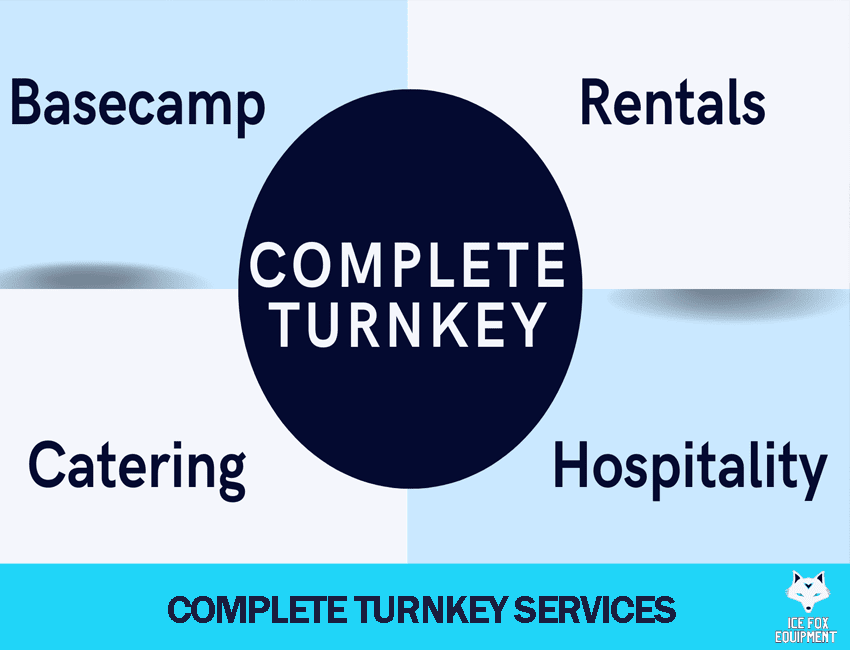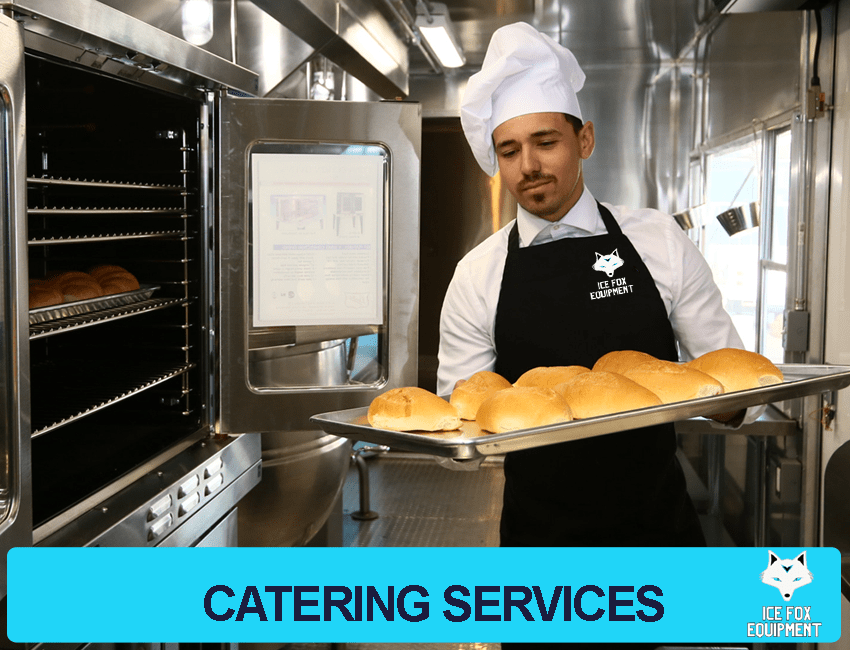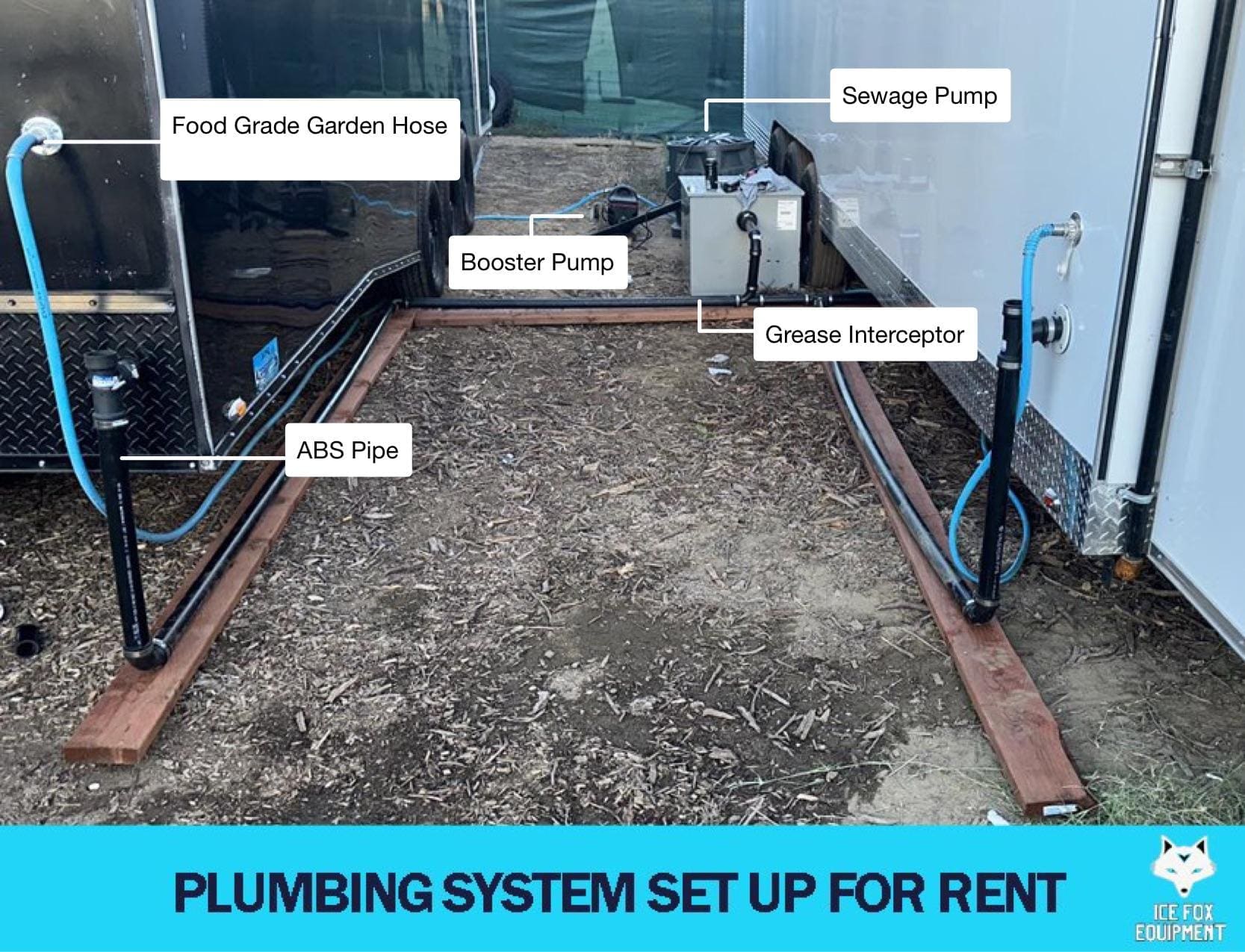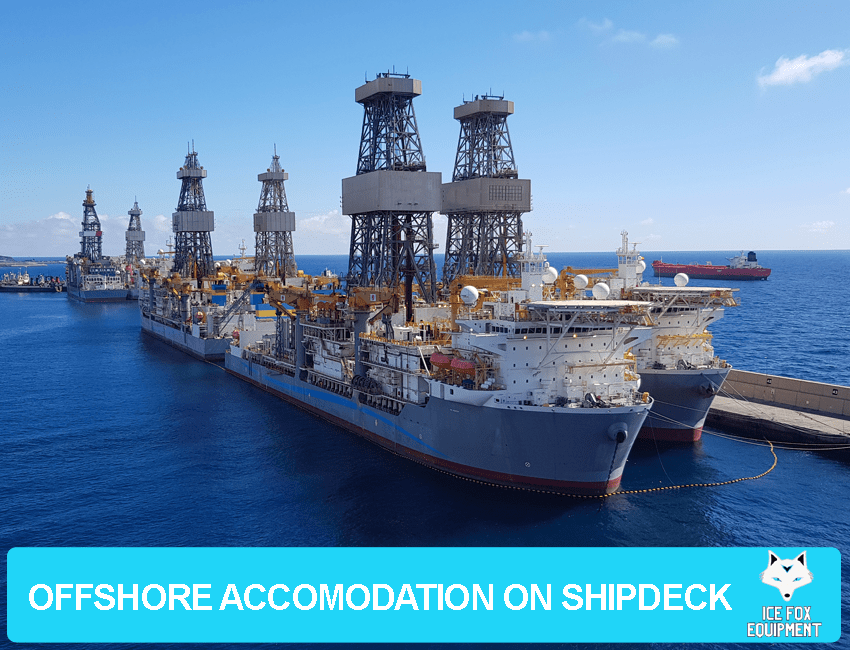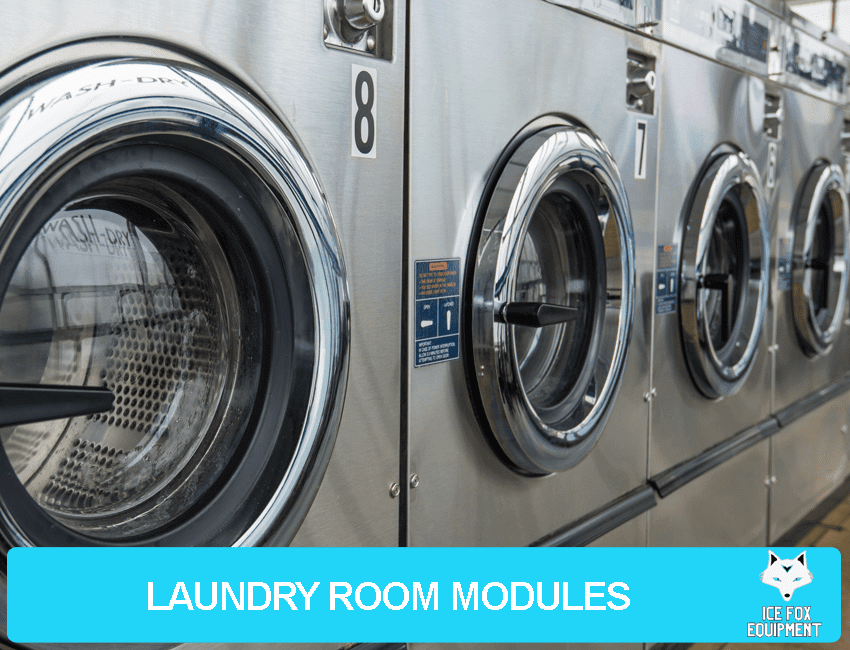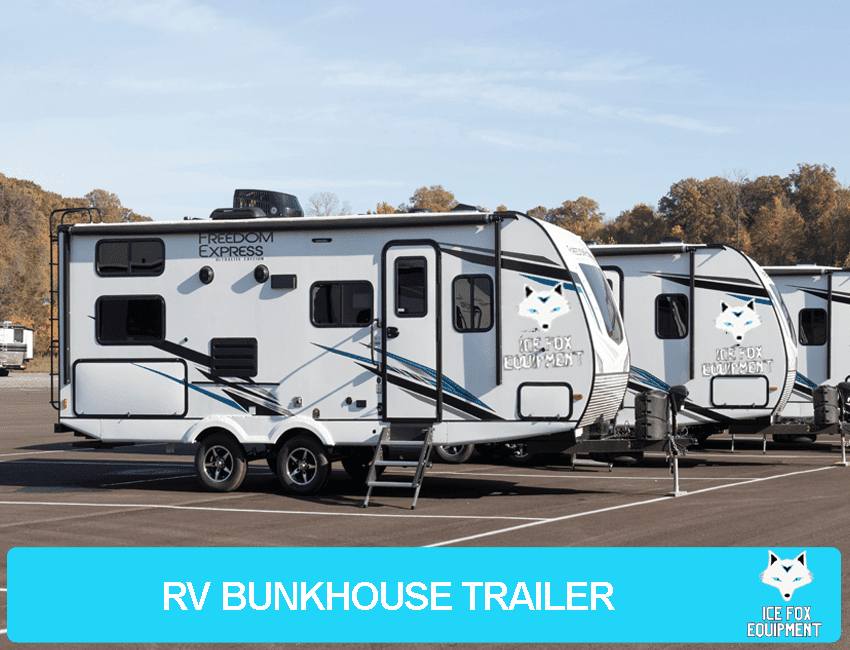 Is it necessary to have portable toilets at your event? Do you have a restroom trailer that need upkeep or repairs? Ice Fox Equipment in Colorado will look after you. A quick and trustworthy sanitation solution is just a phone call away while remodeling or preparing special events.
Ice Fox Equipment mobile bathroom trailers in Colorado are an excellent choice for all of your temporary toilet needs. In our larger trailers, men's and women's cubicles, as well as urinals, are provided. Radio music, stainless steel sinks, vanity mirrors, and air conditioning are among the amenities. 
Our portable restrooms in Colorado provide all of the comforts of home. In the winter, heat; in the summer, air conditioning: 
The two-station restroom trailer is small and easy to put up in tight quarters. It features separate men's and women's stalls that are fully furnished. 
By selecting this option, you may upgrade to a 4-stall restroom trailer with double the space. 
Four sinks and eight toilets are available in our eight-station bathroom trailer in Colorado. There are two urinals and two stalls on the men's side, and four lockable stalls on the women's side.
The following features distinguish each of our trailers from those of the competition: 
Heating and Cooling System in Colorado
Full-size urinals in Colorado
Vanity Mirrors in Colorado
Soap Dispensers in Colorado
Hot/Cold Water Faucet in Colorado
Floor-to-ceiling doors in Colorado
Stainless Steel Sinks in Colorado
Seat Covers in Colorado
Stereo Sound System in Colorado
Regardless of the scale or complexity of your project, Ice Fox Equipment in Colorado can provide you with high-quality portable bathroom trailers.
Modular Locker Room Rental, Temporary Modular Restroom Buildings, Restroom Building Rentals, Temporary Modular Shower Building, Modular Sleeper Rental, Modular Sleeping Facilities Rental, Temporary Modular Sleeper, Modular Living Facilities Rental,  Bunkhouse Sleepers Rental, Temporary Bunkhouse Sleeper, Temporary Modular Restrooms Rental, Temporary Modular Locker Rooms, Temporary Modular Living Facilities, Modular Shower Rental, Temporary Modular Sleeping Facilities
Cities We Served in Colorado, USA below:
Akron, CO
Alamosa, CO
Allenspark, CO
Antonito, CO
Arboles, CO
Arriba, CO
Arvada, CO
Aspen, CO
Ault, CO
Aurora, CO
Avon, CO
Avondale, CO
Basalt, CO
Battlement Mesa, CO
Bayfield, CO
Bennett, CO
Berthoud, CO
Bethune, CO
Blanca, CO
Boone, CO
Boulder, CO
Breckenridge, CO
Brighton, CO
Broomfield, CO
Brush, CO
Buena Vista, CO
Burlington, CO
Byers, CO
Calhan, CO
Canon City, CO
Carbondale, CO
Castle Rock, CO
Cedaredge, CO
Center, CO
Central City, CO
Cheraw, CO
Cheyenne Wells, CO
Clifton, CO
Coal Creek, CO
Collbran, CO
Colorado City, CO
Colorado Springs, CO
Commerce City, CO
Cortez, CO
Craig, CO
Crawford, CO
Creede, CO
Crested Butte, CO
Cripple Creek, CO
Dacono, CO
De Beque, CO
Deer Trail, CO
Del Norte, CO
Delta, CO
Denver, CO
Dillon, CO
Dinosaur, CO
Dolores, CO
Dove Creek, CO
Durango, CO
Eads, CO
Eagle, CO
Eaton, CO
Eckley, CO
Edwards, CO
Eldorado Springs, CO
Elizabeth, CO
Empire, CO
Englewood, CO
Erie, CO
Estes Park, CO
Evans, CO
Evergreen, CO
Fairplay, CO
Firestone, CO
Flagler, CO
Fleming, CO
Florence, CO
Fort Collins, CO
Fort Garland, CO
Fort Lupton, CO
Fort Morgan, CO
Fountain, CO
Fowler, CO
Fraser, CO
Frederick, CO
Frisco, CO
Fruita, CO
Genoa, CO
Georgetown, CO
Gilcrest, CO
Glenwood Springs, CO
Golden, CO
Granada, CO
Granby, CO
Grand Junction, CO
Grand Lake, CO
Greeley, CO
Green Mountain Falls, CO
Gunnison, CO
Gypsum, CO
Haxtun, CO
Hayden, CO
Hillrose, CO
Holly, CO
Holyoke, CO
Hot Sulphur Springs, CO
Hotchkiss, CO
Hudson, CO
Hugo, CO
Idaho Springs, CO
Ignacio, CO
Iliff, CO
Indian Hills, CO
Jamestown, CO
Johnstown, CO
Julesburg, CO
Keenesburg, CO
Kersey, CO
Kiowa, CO
Kit Carson, CO
Kittredge, CO
Kremmling, CO
La Jara, CO
La Junta, CO
La Salle, CO
La Veta, CO
Lafayette, CO
Lake City, CO
Lamar, CO
Laporte, CO
Larkspur, CO
Las Animas, CO
Leadville, CO
Limon, CO
Littleton, CO
Log Lane Village, CO
Longmont, CO
Louisville, CO
Louviers, CO
Loveland, CO
Lyons, CO
Manassa, CO
Mancos, CO
Manitou Springs, CO
Manzanola, CO
Mead, CO
Meeker, CO
Merino, CO
Milliken, CO
Minturn, CO
Monte Vista, CO
Monument, CO
Morrison, CO
Naturita, CO
Nederland, CO
New Castle, CO
Niwot, CO
Norwood, CO
Nucla, CO
Nunn, CO
Oak Creek, CO
Olathe, CO
Olney Springs, CO
Ordway, CO
Otis, CO
Ouray, CO
Ovid, CO
Pagosa Springs, CO
Palisade, CO
Palmer Lake, CO
Paonia, CO
Parachute, CO
Parker, CO
Peetz, CO
Penrose, CO
Pierce, CO
Platteville, CO
Poncha Springs, CO
Pueblo, CO
Rangely, CO
Red Cliff, CO
Red Feather Lakes, CO
Rico, CO
Ridgway, CO
Rifle, CO
Rockvale, CO
Rocky Ford, CO
Romeo, CO
Rye, CO
Saguache, CO
Salida, CO
San Luis, CO
Sanford, CO
Sedalia, CO
Severance, CO
Silt, CO
Silver Plume, CO
Silverthorne, CO
Silverton, CO
Simla, CO
Snowmass Village, CO
South Fork, CO
Springfield, CO
Steamboat Springs, CO
Sterling, CO
Strasburg, CO
Stratton, CO
Sugar City, CO
Swink, CO
Telluride, CO
Thornton, CO
Timnath, CO
Towaoc, CO
Trinidad, CO
Vail, CO
Victor, CO
Walden, CO
Walsenburg, CO
Walsh, CO
Wellington, CO
Westcliffe, CO
Westminster, CO
Wheat Ridge, CO
Wiggins, CO
Wiley, CO
Windsor, CO
Winter Park, CO
Woodland Park, CO
Wray, CO
Yampa, CO
Yuma, CO