We have a 24ft Refrigerated Container that would make as an excellent and portable solution for short term or long term storage of goods and commodity that needs controlled temperature storage. Reefers are one of the many types of shipping containers used in freight forwarding. The units look similar to regular containers only with the function of large fridges making them ideal in transporting goods such as meat, fish, fruits and vegetables, flowers, and pharmaceuticals.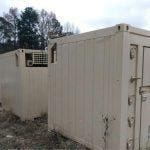 Reefers maintain cargo temperatures regardless of the outside environmental conditions. This is made possible by directing air from under the cargo through the T-shape decking that is specifically designed to make sure that the air can drift across the whole shipment properly. Aside from the temperature, the humidity, ventilation, and atmosphere can also be adjusted with the help of the control unit. Portable generators supply the much-needed supply of electricity that reefer containers need.
The introduction of reefer containers revolutionized the transport of perishable goods and since then had improved and changed over time. Nowadays, technology had made refrigerated containers more efficient as a 5% growth is expected each year until the year 2020. Reefer containers have an increased market share considering all the advantages linked to it. One of these is the fact that it comes in a variety of dimensions making them ideal to sea, road, or air transportation. Even in harsh conditions, reefers remain durable and operational. It also offers greater financial security and faster return on investment compared to reefer ships as they can be transported in diversified carriers. If you want to know more about our 24ft refrigerated containers, call us now at 1-800-245-5216.
Check more Emergency Freezer Container here.