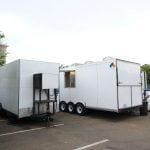 Emergency Freezer Container is the #1 reason why businesses or facilities rent our reefer containers. Here at Ice Fox Leasing, we make sure we attend to time pressure and product efficiency to provide excellent service to our customers. Emergency situations need not halt your operations. When fire, hurricane, or earthquake caught you off-guard then there's no other way but to call Ice Fox Leasing at 1800-245-5216 for your refrigeration needs.
No one knows these situations will happen so we make sure that we are ready as much as we are to attend to them in a timely and most efficient way. Our storage locations which are strategically placed all-over the United States allows us to reach almost all customers in the country.
Our emergency freezer containers has a temperature of 0 degrees Fahrenheit making it compliant to the food storage requirement of the FDA. Our customers need not to worry about the quality of their product when stored in our emergency freezer containers.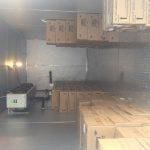 These ISO containers are rigid-lock and airtight to make sure the temperature inside the unit is stable. Food and other perishables will deteriorate fast if the temperature is fluctuating and that's the main thing we are trying to avoid. Our reefers have a very easy-to-use control panel with built-in microprocessors for temperature, moisture and humidity, defrost, and operation alarm controls. All of which are useful for easy control and customization of the unit to your business-specific requirements.
We take pride in the number of satisfied customers we get year after year. We put so much effort in maintaining all the emergency freezer containers in our storage areas by doing pre-trip inspection every 3 months. This ensures that the unit is in 100% running condition prior to sending to our customers. We have our standby persons if anything goes wrong to your reefer containers while in contract.
Reserve your reefer container now by speaking to one of our reliable representatives in 1800-245-5216 and we will give you the most suitable size and specifications. We are giving huge discounts for customers who signs up for 6-months to 1-year rental agreement.
Know more about 24ft Rrefrigerated Container here.