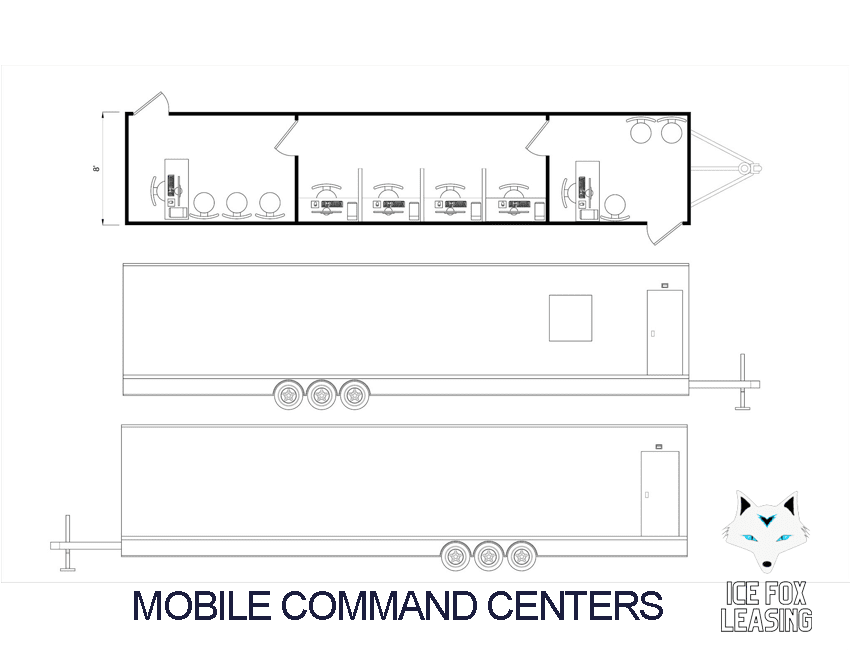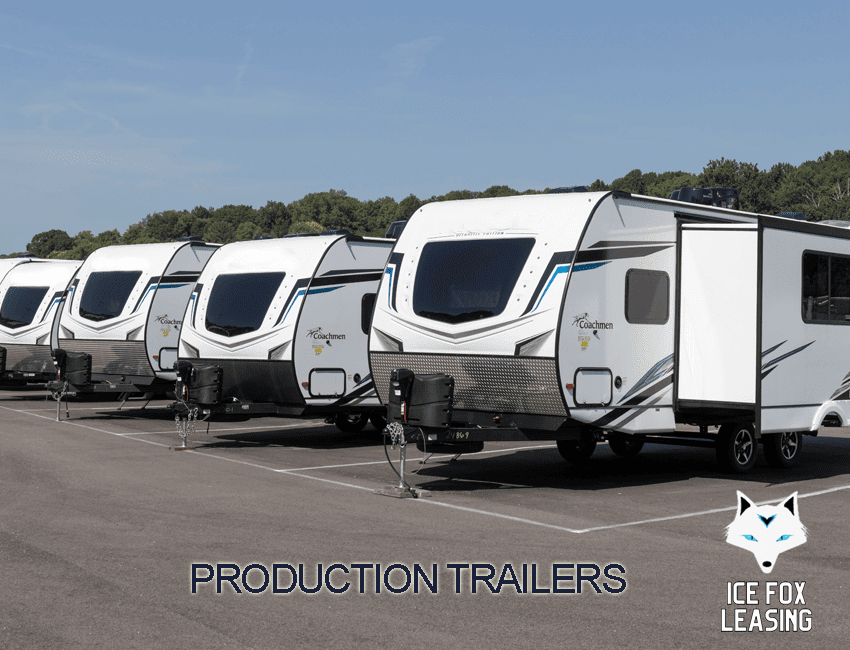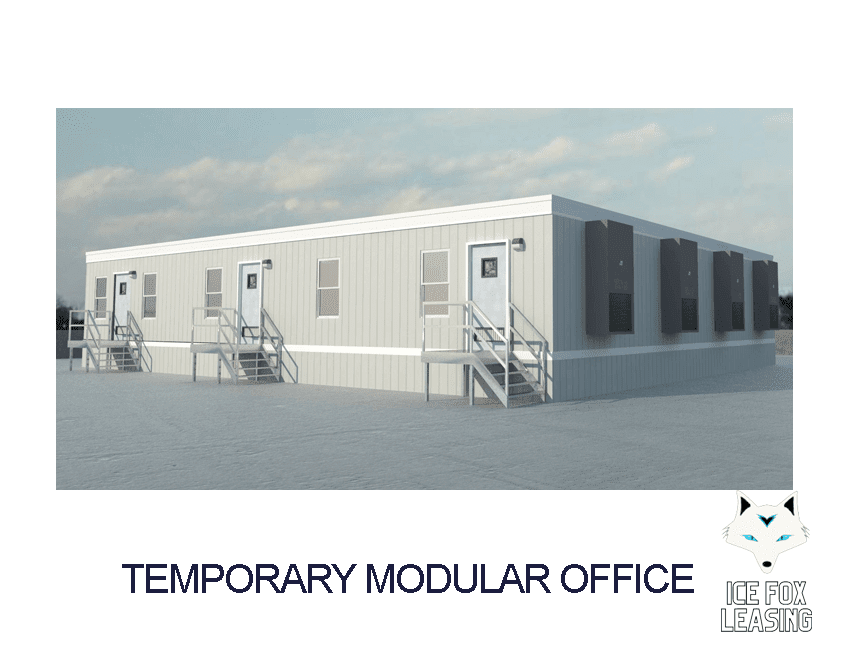 Ice Fox Equipment is a leader in the modular building sector, providing cost-effective solutions for temporary modular buildings for hire or lease in a variety of industries such as commercial, education, medical, and government. Other temporary rental choices include production trailers, RVs, mobile offices, security trailers, ticket windows, refrigeration trailers, and more. 
Their modular buildings all comply with the Division of the State Architect's (DSA) building codes. Ice Fox Equipment takes pride in supplying high-quality, well-built movable facilities that are both comfortable and efficient. Their prefabricated ticket booths are air-conditioned and have wide sliding windows to handle numerous customers at the same time. The skilled staff at Ice Fox Equipment is accessible in major areas across the United States to assist clients with all of their temporary building requirements.
MOBILE OFFICES
Ice Fox Equipment provides rent or lease of customized modular buildings and offices in a number of conventional configurations. You can simply pick the ideal arrangement for your needs with a variety of exterior colors, flooring options, accessories, restrooms, and kitchen solutions available. We also provide Mobile Modular Blast Resistant Modules that comply with industry standards and blast-zone criteria. Because our mobile offices and modular office trailers are on wheels, they are easy to transfer and put wherever they are needed. They are suitable for usage as building site offices, company office spaces, and special event offices.
Portable Office Buildings
Ice Fox Equipment offers modular office structures and trailers for short-term swing space needs in a variety of industries, including construction sites, hospitals, events, and sales centers. They provide personalized solutions as well as functional furniture bundles for quick setup and use. The mobile offices are of great quality, reasonably priced, and well-maintained by a skilled workforce. Short-term housing solutions from Ice Fox Equipment are tailored to fulfill individual needs and are available for rent or lease. Experts from the organization are available to provide additional information on their modular office solutions and custom alternatives. Whether you require a temporary office space or an on-site work area, Ice Fox Equipment can assist in providing a flexible and cost-effective option.
CLASSROOMS
Ice Fox Equipment provides a comprehensive solution for renting or leasing modular classroom structures, whether for short-term or long-term purposes. Schools may simply extend their capacity with relocatable portable classrooms and unique permanent modular classroom leasing, avoiding the costly and time-consuming traditional building procedure. Ice Fox Equipment's modular classrooms are quick to construct and inexpensive, with sizes ranging from two to over twenty classrooms and area footage ranging from 1,000 to over 20,000 square feet.To satisfy the individual demands of any school, portable classroom floor plans can contain restrooms, offices, and break rooms. Ice Fox Equipment provides a variety of temporary housing and office solutions, including basecamp housing, hair and make-up station trailer leasing, and portable command center trailer leasing, in addition to modular classroom rentals. Ice Fox Equipment provides a turn-key solution for all short-term and long-term space demands by renting or leasing high-quality, clean, and inexpensive mobile offices and modular structures.
Spacious, well-illuminated, and temperature-regulated.
ADA-compliant restrooms
Quick occupancy, sometimes in only weeks
Moveable from school to school
Built durable, for easy maintenance
Permanent modular classrooms are created to order and quickly. They can be built to match your existing structures if they are built to your specifications.  Your new school will be modern and beautiful, thanks to advanced materials and designs.  Our professionals will work with you every step of the way to ensure that you have the permanent modular classroom space that you desire.
Built for the long-term
Designed and constructed to your specifications
Custom finishes inside and outside
Tech, security, and data options
Connecting corridors and walkways
Built for turn-key occupancy 
So contact Ice Fox Equipment today with any questions about modular and temporary building rental or leasing. We're here to make the process of meeting your individual needs as simple and painless as possible.