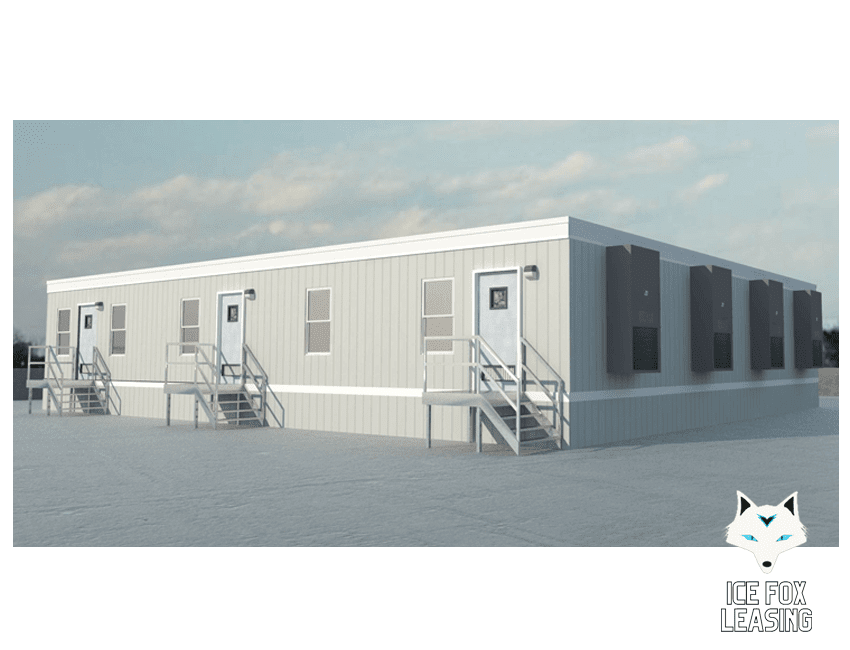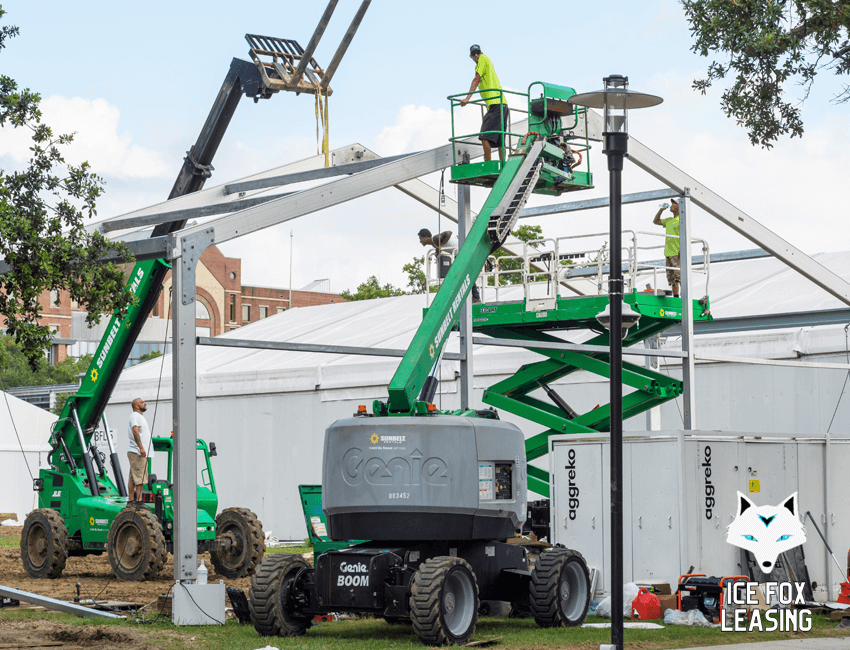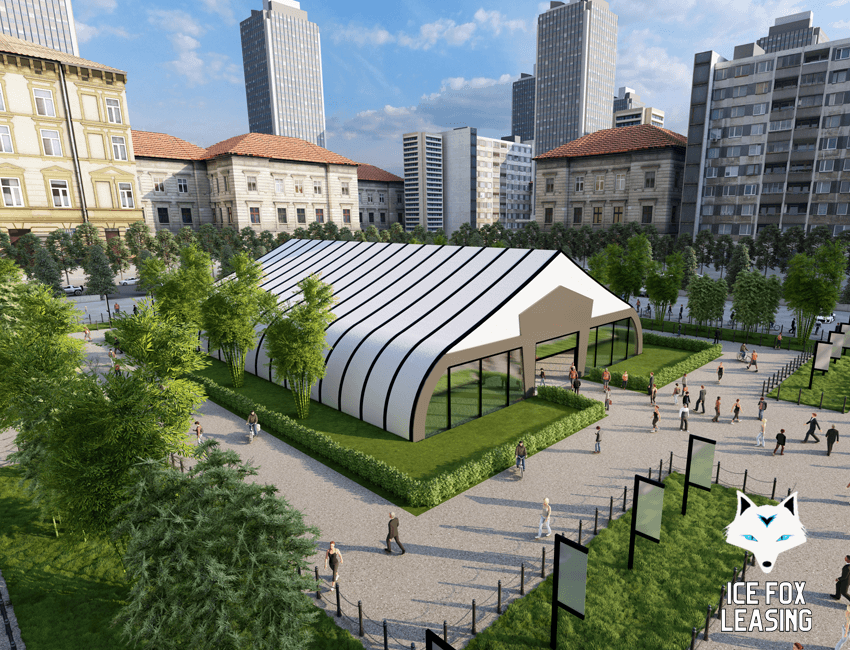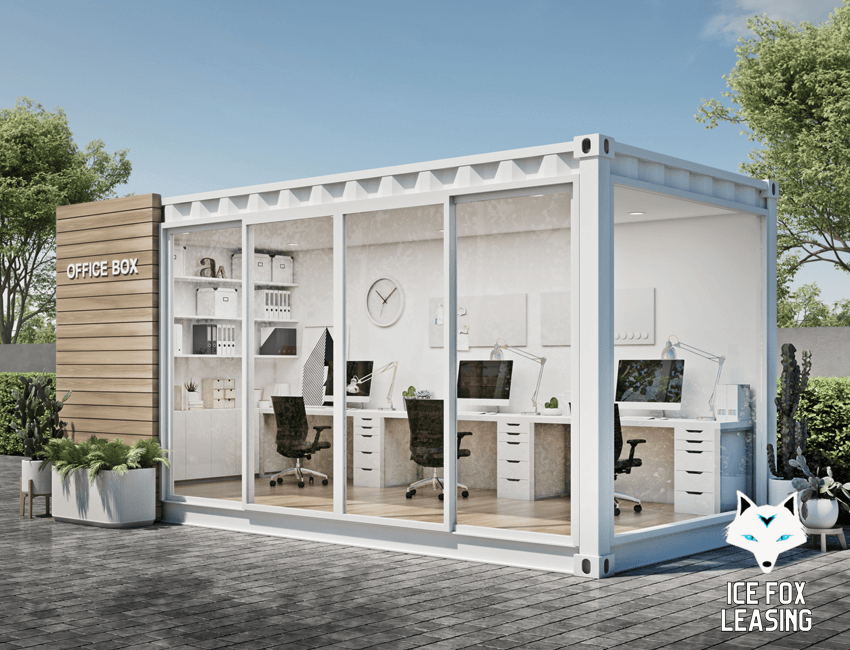 Temporary facilities provided by Ice Fox Equipment offer operational and military and deployable asset support and infrastructure worldwide for workforce housing, catering, and other resources necessitated by a catastrophic event, large construction or development, and for the complex and ever-changing situations of the oil and gas industry. Backed by our expansive capabilities and assets, Ice Fox Equipment can deliver temporary turnkey services and hospitality facilities for our emergency workforce housing for whatever the situation may be. Whether the task involves a remote geographic location, extreme climate, strict timeline, or another unique problem set, 
Temporary123 combines its expertise with innovation and flexibility to determine and deliver the best remote workforce housing turnkey services to satisfy each client's specific requirements.
There are many different layouts available for temporary facilities leasing. With flexible leasing plans, you can take as many or as few modular temporary turnkey workforce housing shelters as you need. Best of all, we can tailor these buildings to your specifications, and offer everything from transport, delivery, engineering, and camp management. Whatever your needs for emergency complete turnkey workforce housing shelters, permitting, security, and hospitality are, Ice Fox Equipment is ready for action.
Ice Fox Equipment is a North American-based general contractor and global solutions firm specializing in remote workforce house trailer rentals and disaster relief. We are highly experienced in rapidly mobilizing resources for all types of operations. From isolated occurrences to natural disasters, wildfires, terrorism, vandalism, environmental mishaps, and international catastrophes. We provide turnkey remote workforce housing with full amenities and maintenance services. 
We also provide disaster relief & worksite accommodations in remote and challenging environments. Our temporary facilities and accommodations Include living quarters with power, water & sewage treatment. 
Ice Fox Equipment offers custom temporary turnkey service and hospitality facilities. Our services include disaster recovery, maintenance, man camps, new constructions, and rental buildings. We have a large global inventory of fully furnished man camps for your mining operation. Get a quote on a 50 – 2000 person camp with full support & logistics. Ice Fox Equipment is a top-line supplier of remote camp rentals and temporary facilities. 
We're here for you wherever and whenever you need us. Ice Fox Equipment provides complete turnkey workforce housing shelters, military and deployable ass support, permitting, security, hospitality, fully staffed man camps, kitchens, and comprehensive support services. We also handle special events, festivals, and concerts, and we're always ready to assist with construction and renovation projects. You can rely on us for a rapid response to natural disasters or any other planned or unplanned emergency situations. 
Ice Fox Equipment is committed to providing expert, full support services for temporary facilities and workforce housing shelters for rent that are customized to your specific needs, or any situation. 
Our temporary facilities support services are ideal for the following: 
Military and Deployable Assets
Temporary Housing
 Disaster relief
 Emergency closures or shutdowns
 Structural renovations
 Building additions
Planned expansions
 Property restoration projects
Special events
Concerts
Festivals
Long-term maintenance projects
Workforce housing
Remote workforce housing
Turnkey temporary facilities
Permanent relocatable buildings
Emergency relocatable buildings
Modular containerized buildings
Temporary homeless shelter buildings
Ice Fox Equipment provides worldwide operational support and infrastructure for temporary facilities, remote workforce house trailer rentals, catering, and other resources associated with a catastrophic event, a large construction or development project, and the complex and ever-changing work environments of many industries. 
Ice Fox Equipment has comprehensive industry experience, unparalleled technical expertise, and superior equipment to assist you with modular temporary workforce housing shelters, and military and deployable assets, no matter how remote the location, how extreme the climate, or how stringent the timeline and how unique the conditions are. 
Ice Fox Equipment has become a leader in providing premium, full-service remote turnkey service and hospitality workforce temporary facilities.
We know how hard it is to be stuck in the middle of nowhere, miles from friends, family, and the comforts of home. 
We get the importance of inviting, relaxing, high-quality workforce housing camp services that make workers feel appreciated and comfortable. In the oil sands. In the emerging shale gas regions. In mining communities. In the woods and on the tundra. In the most remote places. 
Ice Fox Equipment proudly serves industries operating throughout Canada, the U.S., and worldwide, offering first-class temporary workforce bunk bed camp rentals that will accommodate crews ranging from less than 50 people to thousands. 
RAPID TURNKEY AND CUSTOMIZED SOLUTIONS
We know the pressure you're under to get things up and running in an emergency or after a catastrophe! With that in mind, we offer a field-proven, geographically dispersed workforce, and base camp construction solutions that are ready to go. 
We can also provide complete turnkey workforce housing shelters, permitting, security, and hospitality to meet your unique needs for comfort and security in the most inhospitable environments. 
Ice Fox Equipment provides temporary facilities and support services to a wide range of industries:
Oil & Gas
Energy
Environmental
Petrochemical
Government
Infrastructure
Mining
Minerals
Special Events
 Restaurant & Hospitality
Medical
Industrial
Education