Emergency Refrigeration Container Rental in Arizona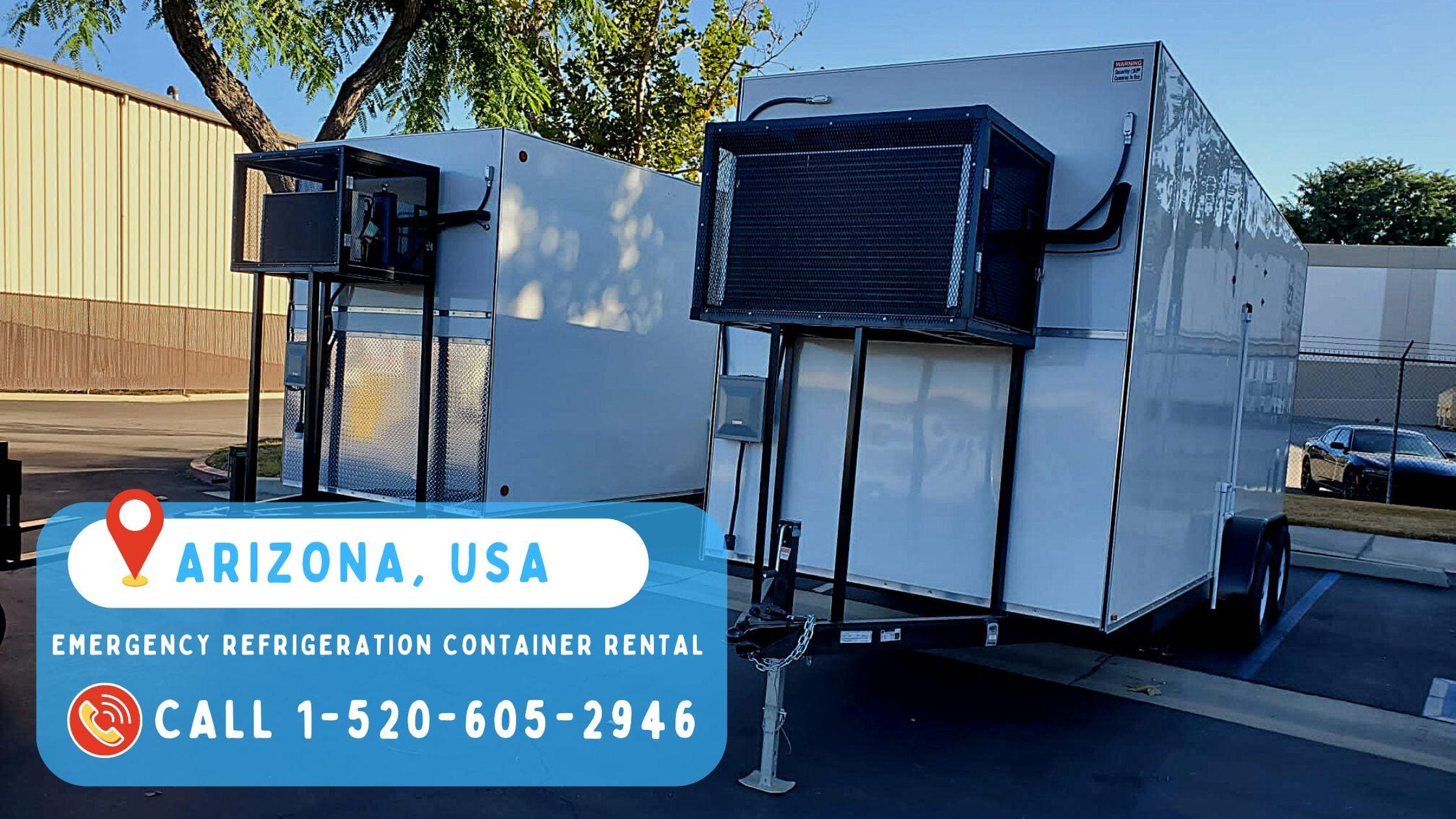 Welcome to Ice Fox Equipment, one of the biggest and best mobile refrigeration rental and sales businesses in the country. Our business was founded specifically to fill the market's demand for sales of refrigerated coolers, rentals of emergency refrigerated trailers, temporary freezer rentals, and other items.
As a full-service rental, sales, and leasing business, we take pride in working closely with each of our clients to meet their unique needs. All of the refrigeration containers in our line are serviced by us.
We are committed to providing excellent service, assistance, and response. Our main goal is to build lasting relationships with our clients, which can only be accomplished by continuing to offer top-notch service and assistance for the duration of any contract for renting portable refrigerator containers, renting mobile coolers, renting refrigeration freezers, and more.
The best choice for your project is to rent a refrigerator for the hotel and restaurant sectors. Because they are excellent units, our rental rates are the lowest on the market. Our catering and catering refrigerators are all in excellent condition and have received approval from the health authority. You can now breathe a sigh of relief. With the best refrigeration units available anywhere in the United States and Canada, sit back and let Food Service Refrigeration Rental handle all of your needs.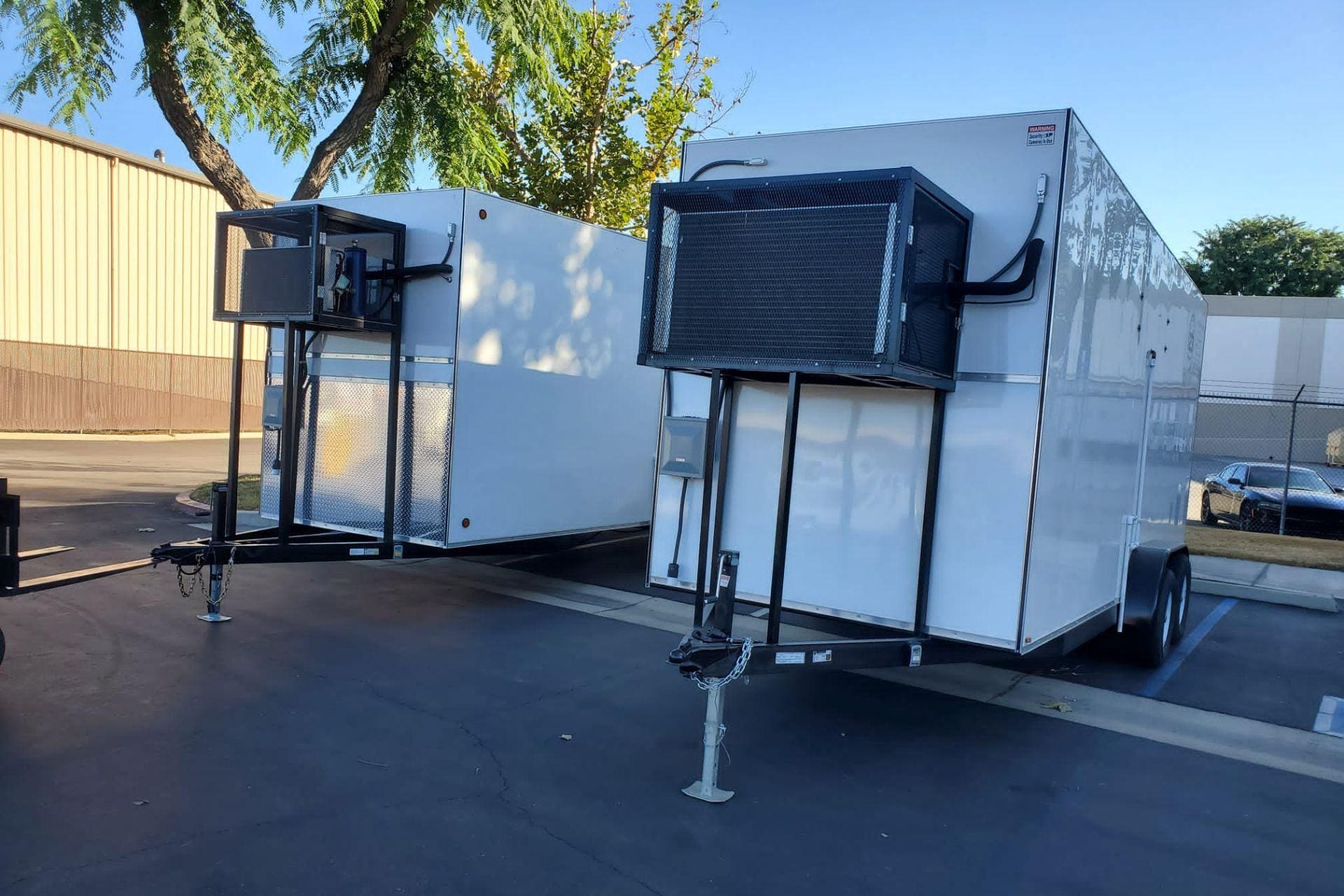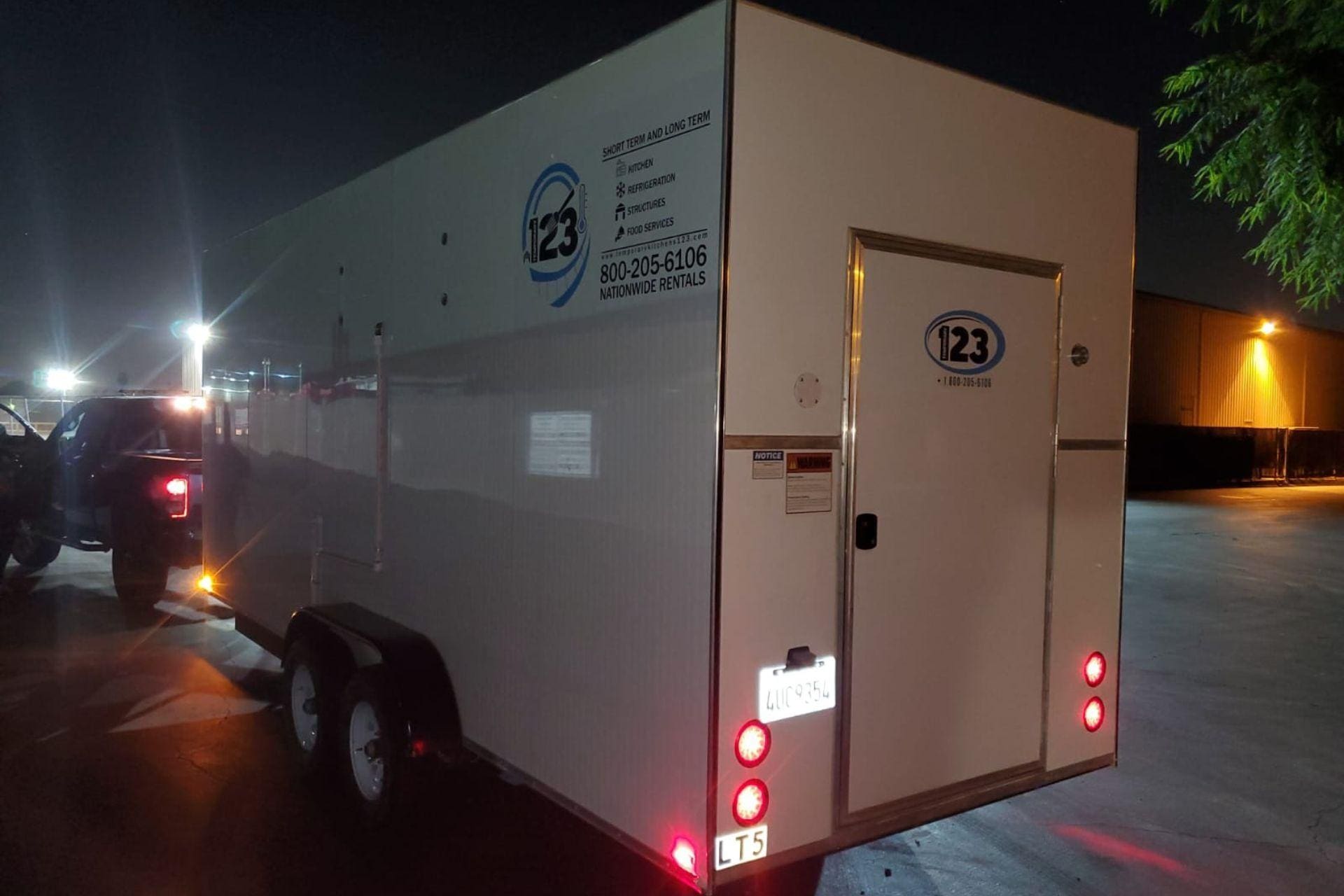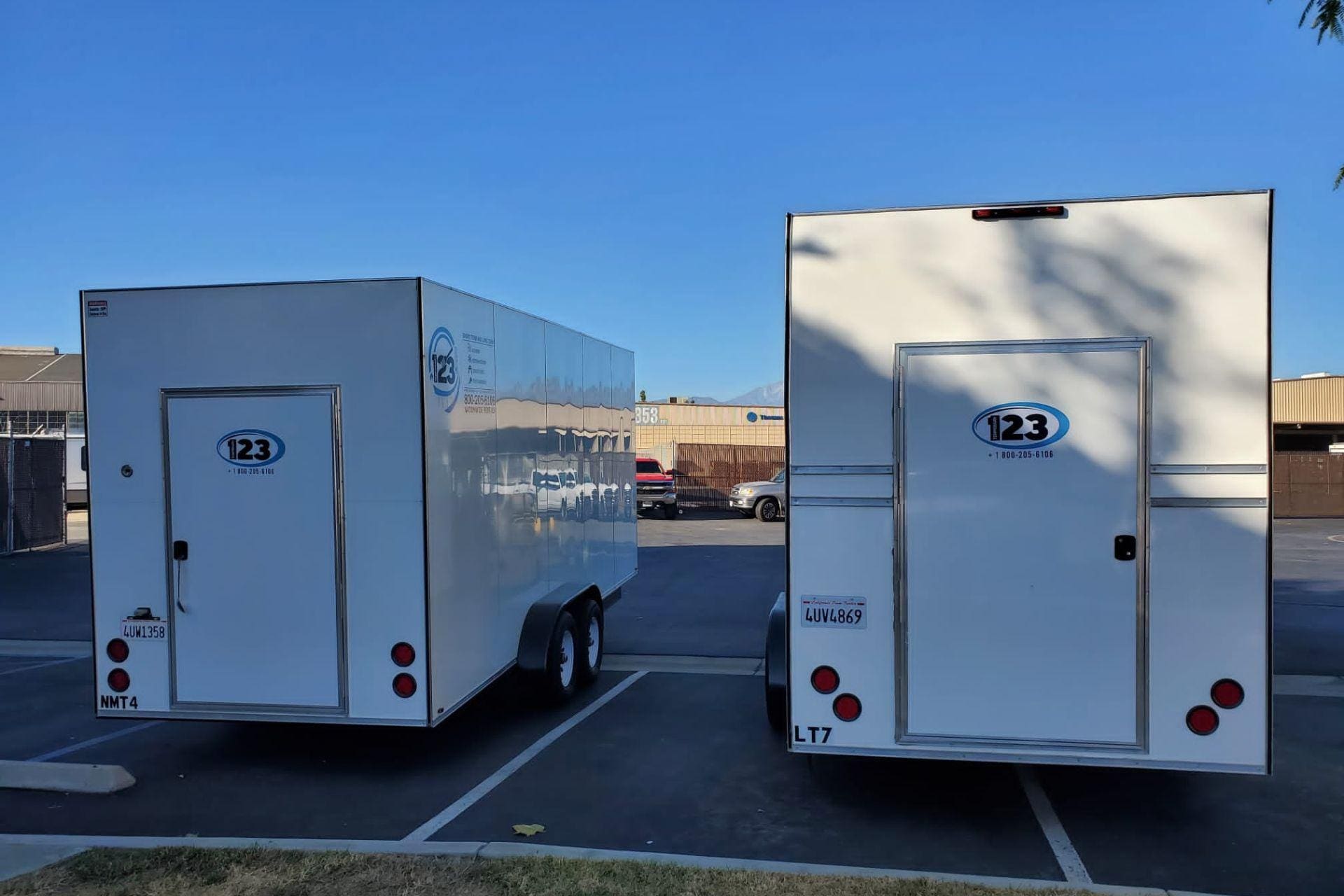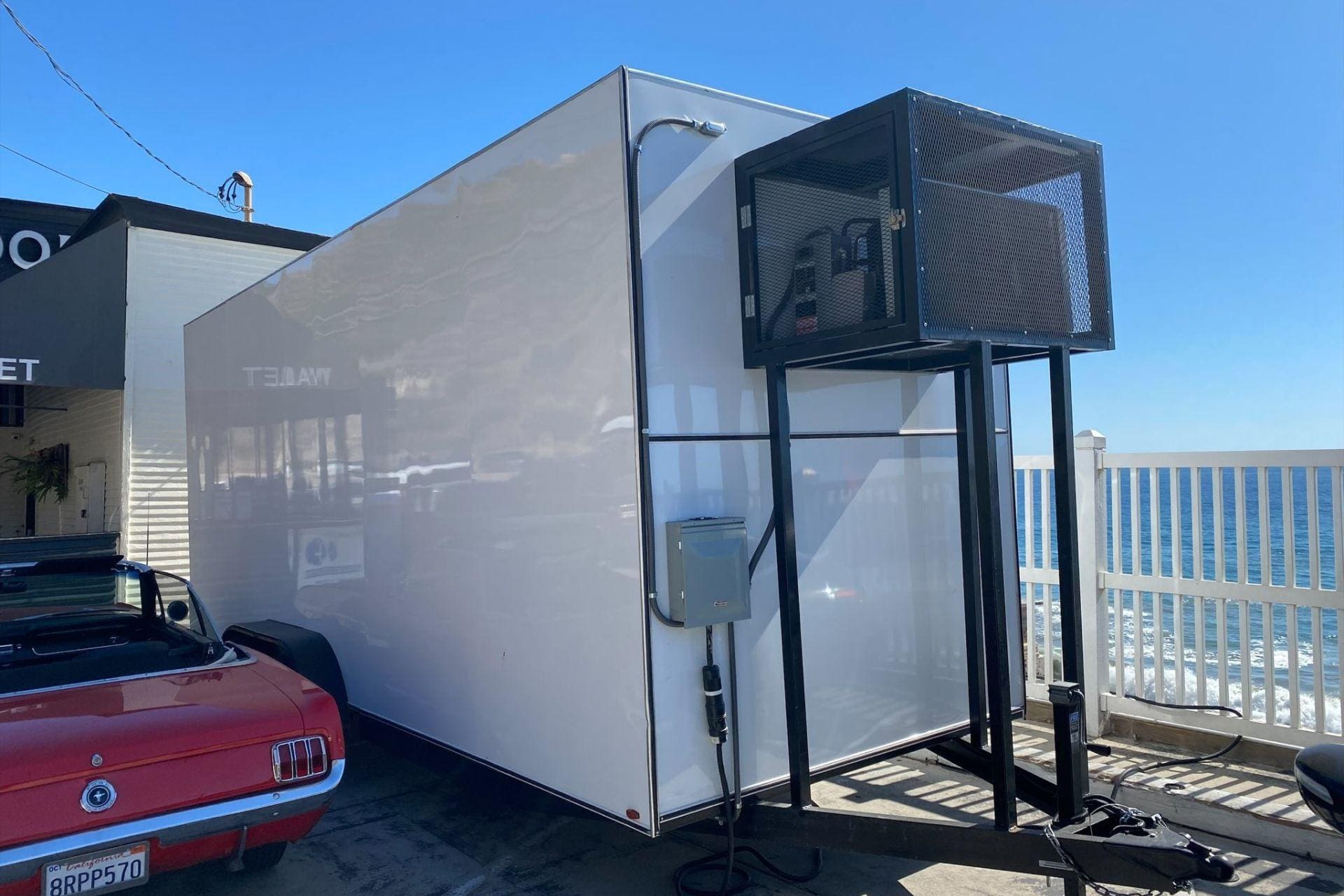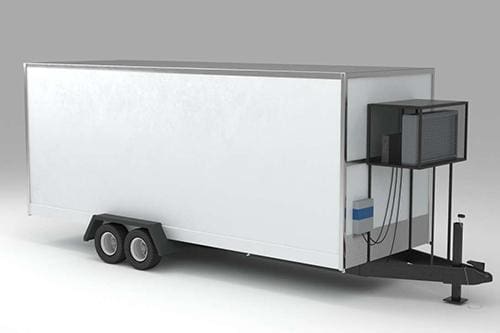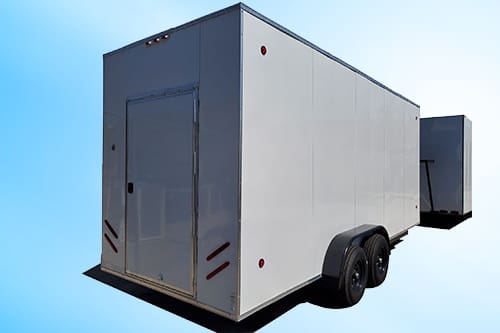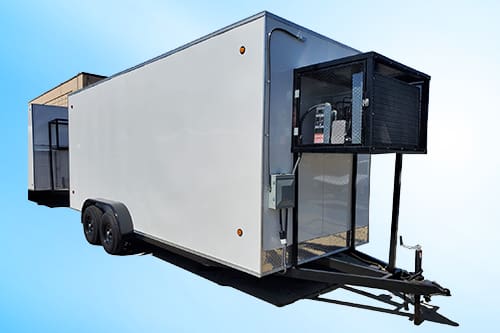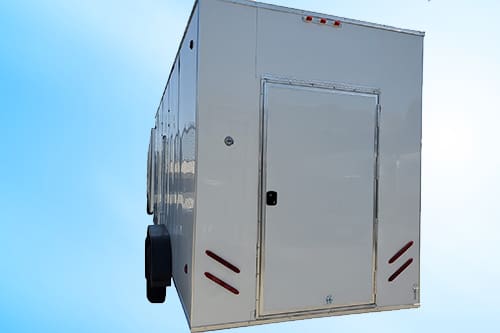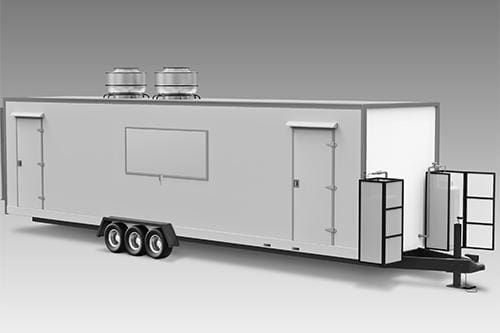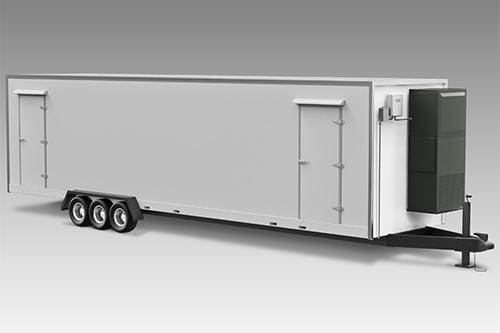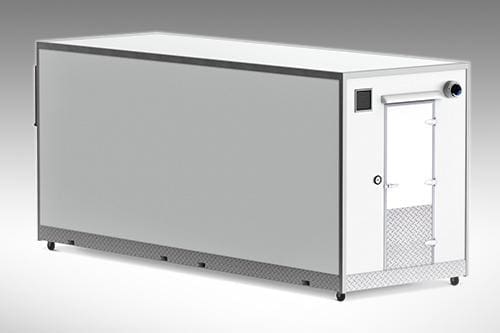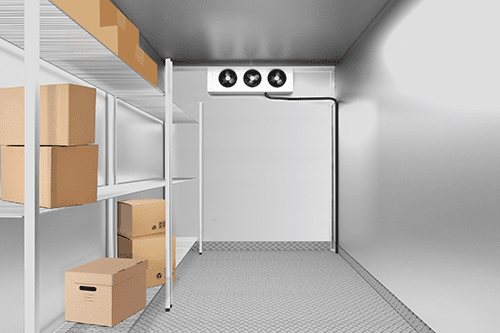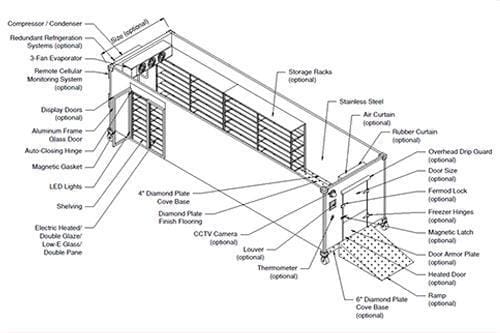 For almost 25 years, Ice Fox Food Service Refrigerator Rental has been leasing equipment just like: Mobile Refrigeration For Lease, Portable Refrigerators Rental, Rental Refrigeration Containers,  Rental of Refrigeration Trailers, Rental of Refrigeration Freezers, Mobile Refrigeration Rental, Rental of Temporary Refrigeration, Rental of Mobile Refrigeration, Base Camps Rentals and services, Emergency Response, Mobile Kitchen Trailer Rental, Bunk House Trailer Rentals, Portable Refrigerator Units, Shower Trailer Rental, Restroom Trailer Rental, Security Trailer Rental, Laundry Trailer Rental, Living Quarters, Clear-span Structures Rental, Electric Power Generator, Portable Refer Units, Potable Water Service, Water Trailer Rental, Ice Trailer Rental, Mobile Morgue Trailer, Command center trailer. Throughout the United States, our refrigerated trailers are rented for both short-term and long-term customers.
We also provide services like:
Refrigeration Container
Refrigeration Trailer
Walk in Refrigeration
Walk in Cooler
Walk in Freezer
Outdoor Walk-in Freezer
We are confident that we abide by all of the rules set forth by the health departments, who oversee all of our refrigeration trailers for rent, so there won't be any problems. Our refrigeration trailers for rent can hold a variety of items that might need to be frozen or simply kept cool. As an additional choice, refrigeration containers come in high-cube sizes. We are the leading national service provider, and we serve all of north and central Florida, California, Colorado, New York, and every other state with on-site, electric-powered refrigeration trailers for lease, refrigerated storage trailers, and mobile refrigeration containers.

Our company offers rental services like:
Refrigeration Container rental in Phoenix, AZ
Refrigeration Trailer rental in Tucson, AZ
Walk-in Refrigeration rental in Mesa, AZ
Walk-in Cooler rental in Chandler, AZ
Walk-in Freezer rental in Scottsdale, AZ
Outdoor Walk-in Freezer rental in Glendale, AZ
During the hot, humid months of the year, temporary refrigeration rental trailers are necessary as the demand for Emergency Refrigeration Container Rental in Arizona increases.

Refrigeration Container Rentals trailer in Surprise, Phoenix, Tucson, Mesa, Chandler, and Tempe in Arizona. 
Refrigeration Cooler Rentals in Arizona
Freezer Containers for rental and leasing in the state of Arizona
Cooler Trailer Rentals in zip codes 85142, 85364, 85032, and 85225
Blast Freezers for lease and rental in Kodiak, Tempe, Gilbert, Glendale, Scottsdale, Chandler, Mesa, Tucson, Phoenix, Surprise
Temporary Refrigeration and Freezer rental in Arizona
Walk Freezer Leasing for emergencies is available now in the cities of Kodiak, Tempe, Gilbert, Glendale, Scottsdale, Chandler, Mesa, Tucson, Phoenix, Surprise in Arizona
Our company offers the rental of refrigerated equipment for catering and refrigerated equipment for emergency supplies. The service includes food service refrigerators and food service freezers perfect for any type of emergency. Devices can be operational within hours, making them a fast and safe response to your emergencies. If you are looking to rent a mobile reefer container or rent a mobile chiller, check the details in this information beforehand. Emergency catering refrigerators and portable catering refrigerators operate on 220 or 486 volts through transformers installed in most of the units we offer.
Our company offers leasing services like:
Refrigeration Container Leasing in Gilbert, AZ
Refrigeration Trailer Leasing in Tempe, AZ
Walk-in Refrigeration Leasing in Peoria, AZ
Walk-in Cooler Leasing in Surprise, AZ
Walk-in Freezer Leasing in San Tan Valley, AZ
Outdoor Walk-in Freezer Leasing in Yuma, AZ
We offer equipment rental to all our customers for the duration of the repair, both long and short term; we are here to provide you with the best service and best rates you can find. Many large department store chains regularly use our reefer container rental services; as they are familiar with the equipment we rent, but at the same time hospitality and refrigeration service rentals are well aware of most customer needs, we have good knowledge of product storage and manufacturing of some goods and pharmaceuticals. We offer great rentals for these types of factories or customers who need specific temperatures for their products and rentals. At the same time, we also offer attractive rental solutions for smaller users who only want to rent a container once.
We are offering services like:
Refrigeration Container sales in Mississippi
Refrigeration Trailer Sales in Montana
Walk-in Refrigeration Sales in Nevada
Walk-in Cooler Sales in New Hampshire
Walk-in Freezer Sales in New Mexico
Outdoor Walk-in Freezer Sales in North Carolina
For Foodservice Mobile Cooling Technology, it is ultimately about ensuring that all customers are satisfied with our service. Mobile Food Service Refrigeration Rental is a company made up of professionals who care deeply about your needs and employees who make sure everything runs smoothly for you. Thanks to our many years of experience and all the advantages you will read about in this article, we can offer you the best options.
Yes we also have sizes such as:
40ft Long, 8ft wide 9ft Tall
Long, 8ft wide 9FT Tall
53ft Long, 8ft wide 9ft Tall
We provide mobile catering refrigeration across the United States and Canada. Food Service Refrigeration Rentals offers all the units needed for your construction projects, product development, or other needs. We are the leading company in the rental of refrigerated containers and transportable refrigerated containers. and more.
We provide services in all the States of the US like:
Refrigeration Container for sale in Georgia
Refrigeration Trailer for sale in Hawaii
Walk-in Refrigeration Trailer for sale in Idaho
Walk-in Cooler Trailer for sale in Illinois
Walk-in Freezer Trailer for sale in Indiana
Outdoor Walk-in Freezer Trailer for sale in Iowa
Besides food service refrigeration, we also have other products that can be very useful in your business. These can help you waste your time and free you from your emergencies.

We also offer Rental services like:
Base Camps Rentals and services
Emergency Response
Mobile Kitchen Trailer Rental
Bunk House Trailer Rentals
Shower Trailer Rental
Restroom Trailer Rental
Security Trailer Rental
Laundry Trailer Rental
Living Quarters
Clear-span Structures Rental
Electric Power Generator
Potable Water Service
Water Trailer Rental 
Mobile Refrigeration Trailer Rentals also has Prefabricated models that can be useful for your business or project. See the list below:
 DISHWASHING
Mobile Dish Rooms
Modular Dish Rooms
TEMPORARY CONTROL
Modular Temporary Control Rooms
Mobile Temporary Control Rooms
PODS
Pod Construction
Refrigeration
Temperature Control
Mobile Kitchen
Dish Room
Prep Kitchen
MODULAR
Modular Structures Temporary
Modular Structures Permanent
Pod Construction
TRAILERS
Refrigeration
Temperature Control
Mobile Kitchen
Dish Room
Prep Kitchen
Mobile Refrigeration Trailer Rental  may provide support services in addition to its primary goods, such as:
Ramp – Stairs
Plumbing Accessories
Portable Water
Permit Procurement
Generators
Security Cameras
Lighting
Barricades
Office Trailers
Onsite Installation
So you already know our product and company. If you have any questions, please feel free to contact us if you need more information about food service refrigeration in the USA or if you can't find the exact products please choose the one that meets your needs. We are here to help.
This Food Service Mobile Refrigeration is a company that provides the highest level of customer service, customer satisfaction is our top priority and all our representatives are ready to answer your call and give you all the information you need.
Ice Fox Equipment Leasing & Rental in Arizona
Ice Fox Equipment can deliver their products and services if not all to most cities in Arizona.

See list of cities we served in AZ below:
Arizona, AZ
Phoenix, AZ
Tucson, AZ
Mesa, AZ
Chandler, AZ
Scottsdale, AZ
Glendale, AZ
Gilbert, AZ
Tempe, AZ
Peoria, AZ
Surprise, AZ
San Tan Valley, AZ
Yuma, AZ
Avondale, AZ
Goodyear, AZ
Buckeye, AZ
Flagstaff, AZ
Casas Adobes, AZ
Casa Grande, AZ
Lake Havasu City, AZ
Queen Creek, AZ
Catalina Foothills, AZ
Maricopa, AZ
Marana, AZ
Prescott Valley, AZ
Oro Valley, AZ
Sierra Vista, AZ
Prescott, AZ
Apache Junction, AZ
Bullhead City, AZ
Sun City, AZ
El Mirage, AZ
San Luis, AZ
Drexel Heights, AZ
Sahuarita, AZ
Kingman, AZ
Fortuna Foothills, AZ
Florence, AZ
Sun City West, AZ
Fountain Hills, AZ
Anthem, AZ
Green Valley, AZ
Nogales, AZ
Rio Rico, AZ
Eloy, AZ
Flowing Wells, AZ
New River, AZ
Somerton, AZ
Douglas, AZ
Sierra Vista Southeast, AZ
Fort Mohave, AZ
Payson, AZ
Tanque Verde, AZ
Sun Lakes, AZ
Paradise Valley, AZ
Vail, AZ
Coolidge, AZ
New Kingman-Butler, AZ
Verde Village, AZ
Saddlebrooke, AZ
Cottonwood city, AZ
Valencia West, AZ
Tucson Estates, AZ
Gold Canyon, AZ
Tucson Mountains, AZ
Chino Valley, AZ
Show Low, AZ
Camp Verde, AZ
Arizona City, AZ
Sedona, AZ
Safford, AZ
Winslow, AZ
Corona de Tucson, AZ
Tuba City, AZ
Picture Rocks, AZ
Golden Valley, AZ
Wickenburg, AZ
Page, AZ
Globe, AZ
Tolleson, AZ
Youngtown, AZ
Catalina, AZ
Guadalupe, AZ
Village of Oak Creek, AZ
Avra Valley, AZ
Litchfield Park, AZ
Snowflake, AZ
Cave Creek, AZ
Citrus Park, AZ
South Tucson, AZ
Kayenta, AZ
Williamson, AZ
Rincon Valley, AZ
Bisbee, AZ
Thatcher, AZ
Holbrook, AZ
Summit, AZ
Paulden, AZ
Eagar, AZ
Doney Park, AZ
Colorado City, AZ
Benson, AZ
Lake Montezuma, AZ
Three Points, AZ
San Carlos, AZ
Pinetop-Lakeside, AZ
Clarkdale, AZ
Chinle, AZ
Taylor, AZ
Fort Defiance, AZ
Red Rock CDP, AZ
Dewey-Humboldt, AZ
Whiteriver, AZ
Oracle, AZ
Carefree, AZ
Quartzsite, AZ
Clifton, AZ
San Manuel, AZ
Lake of the Woods, AZ
Willcox, AZ
St. Johns city, AZ
Timberline-Fernwood, AZ
Cornville, AZ
Williams, AZ
Parker, AZ
Kachina Village, AZ
Superior, AZ
Wellton, AZ
Whetstone, AZ
White Mountain Lake, AZ
Mohave Valley, AZ
Valle Vista, AZ
Central Heights-Midland City, AZ
Swift Trail Junction, AZ
Ajo, AZ
Black Canyon City, AZ
Cordes Lakes, AZ
Desert Hills, AZ
Pima, AZ
Linden, AZ
Heber-Overgaard, AZ
Sacaton, AZ
Sells, AZ
Window Rock, AZ
Kearny, AZ
Rio Verde, AZ
Bagdad, AZ
Springerville, AZ
Fort Valley, AZ
Grand Canyon Village, AZ
Dolan Springs, AZ
Cienega Springs, AZ
North Fork, AZ
Gila Bend, AZ
Huachuca City, AZ
Miami, AZ
First Mesa, AZ
Joseph City, AZ
Mayer, AZ
Congress, AZ
Cibecue, AZ
Second Mesa, AZ
Lukachukai, AZ
Scenic, AZ
Kaibito, AZ
Tonto Basin, AZ
Blackwater, AZ
Beaver Dam, AZ
Pine, AZ
Spring Valley, AZ
Canyon Day, AZ
Pinetop Country Club, AZ
Mountain View Ranches, AZ
Mammoth, AZ
Meadview, AZ
Morenci, AZ
St. David, AZ
Star Valley, AZ
LeChee, AZ
Peridot, AZ
Mescal, AZ
Parks, AZ
Peach Springs, AZ
Cactus Flats, AZ
Tsaile, AZ
Donovan Estates, AZ
Salome, AZ
Seven Mile, AZ
Bylas, AZ
Red Lake, AZ
Golden Shores, AZ
Dilkon, AZ
Pirtleville, AZ
Tubac, AZ
Shongopovi, AZ
Leupp, AZ
Six Shooter Canyon, AZ
Tombstone, AZ
Moenkopi, AZ
Ak-Chin Village, AZ
Bouse, AZ
Kaibab Estates West, AZ
Naco, AZ
Hondah, AZ
Centennial Park, AZ
Wagon Wheel, AZ
Hotevilla-Bacavi, AZ
Kykotsmovi Village, AZ
Strawberry, AZ
Arivaca Junction, AZ
Claypool, AZ
Bluewater, AZ
Fredonia, AZ
Casa Blanca, AZ
Ehrenberg, AZ
Wilhoit, AZ
Houck, AZ
St. Michaels, AZ
Pinon, AZ
Ganado, AZ
Blue Ridge, AZ
Komatke, AZ
Mesa del Caballo, AZ
Gadsden, AZ
Cameron, AZ
Parker Strip, AZ
Rainbow City, AZ
Many Farms, AZ
Rancho Mesa Verde, AZ
Whitecone, AZ
Patagonia, AZ
Arizona Village, AZ
Maricopa Colony, AZ
Sunsites, AZ
Wittmann, AZ
Teec Nos Pos, AZ
Mountainaire, AZ
J-Six Ranchettes, AZ
Nelson, AZ
Chilchinbito, AZ
McNary, AZ
Round Rock, AZ
Dudleyville, AZ
Seligman, AZ
Munds Park, AZ
Aguila, AZ
Miracle Valley, AZ
Brenda, AZ
Ash Fork, AZ
Sonoita, AZ
Burnside, AZ
Dennehotso, AZ
Round Valley, AZ
Duncan, AZ
Sawmill, AZ
Cactus Forest, AZ
Sanders, AZ
Arivaca, AZ
Willow Valley, AZ
Vicksburg, AZ
Circle City, AZ
Yarnell, AZ
Gila Crossing, AZ
Queen Valley, AZ
Red Mesa, AZ
Santa Rosa, AZ
York, AZ
St. Johns, AZ
Solomon, AZ
Icehouse Canyon, AZ
El Prado Estates, AZ
Roosevelt Estates, AZ
Tacna, AZ
Tolani Lake, AZ
Upper Santan Village, AZ
Peeples Valley, AZ
Walnut Creek, AZ
Winslow West, AZ
Elephant Head, AZ
Bellemont, AZ
Low Mountain, AZ
Picacho, AZ
Rock Point, AZ
Keams Canyon, AZ
Mesquite Creek, AZ
La Paz Valley, AZ
Turkey Creek, AZ
Cedar Creek, AZ
Gisela, AZ
Wheatfields, AZ
Stanfield, AZ
Sacaton Flats Village, AZ
San Jose, AZ
Greenehaven, AZ
Hayden, AZ
Nazlini, AZ
Tees Toh, AZ
South Komelik, AZ
East Fork, AZ
Fort Thomas, AZ
Clay Springs, AZ
Stotonic Village, AZ
Jerome, AZ
Wall Lane, AZ
Dateland, AZ
Greasewood, AZ
Wenden, AZ
Nutrioso, AZ
Pinedale, AZ
Young, AZ
Wellton Hills, AZ
Chloride, AZ
Drysdale, AZ
Orange Grove Mobile Manor, AZ
Topawa, AZ
Cane Beds, AZ
Rough Rock, AZ
Steamboat, AZ
Central, AZ
Bitter Springs, AZ
Shonto, AZ
Sacate Village, AZ
Winkelman, AZ
Clacks Canyon, AZ
Indian Wells, AZ
So-Hi, AZ
Littlefield, AZ
Pinal, AZ
Bowie, AZ
Kino Springs, AZ
Oak Creek Canyon, AZ
Elfrida, AZ
San Miguel, AZ
Cibola, AZ
Pisinemo, AZ
Chuichu, AZ
Cornfields, AZ
Freedom Acres, AZ
Goodyear Village, AZ
Top-of-the-World, AZ
Tonalea, AZ
Valle, AZ
Oxbow Estates, AZ
Yuma Proving Ground, AZ
Tusayan, AZ
Sunizona, AZ
Del Muerto, AZ
Cottonwood, AZ
Lazy Y U, AZ
East Globe, AZ
McNeal, AZ
Dripping Springs, AZ
Tonto Village, AZ
Haivana Nakya, AZ
Jeddito, AZ
White Hills, AZ
Jakes Corner, AZ
Carrizo, AZ
Hackberry, AZ
Pinion Pines, AZ
Morristown, AZ
Poston, AZ
Deer Creek, AZ
Forest Lakes, AZ
Beaver Valley, AZ
San Simon, AZ
Fort Apache, AZ
Maish Vaya, AZ
Alpine, AZ
Palominas, AZ
Vernon, AZ
Elgin, AZ
Antares, AZ
Ali Chuk, AZ
Crystal Beach, AZ
Hard Rock, AZ
Cutter, AZ
Christopher Creek, AZ
Kaibab, AZ
Klagetoh, AZ
Red Rock, AZ
Mead Ranch, AZ
Gu Oidak, AZ
Whispering Pines, AZ
Katherine, AZ
Pine Lake, AZ
Bryce, AZ
Wet Camp Village, AZ
Sweet Water Village, AZ
Sehili, AZ
Lower Santan Village, AZ
Kohls Ranch, AZ
Arlington, AZ
Shumway, AZ
Nolic, AZ
Kaka, AZ
Tumacacori-Carmen, AZ
Cowlic, AZ
Anegam, AZ
Sun Valley, AZ
Rock House, AZ
Utting, AZ
Truxton, AZ
Moccasin, AZ
Crozier, AZ
Franklin, AZ
Woodruff, AZ
Seba Dalkai, AZ
Wikieup, AZ
Kleindale, AZ
East Verde Estates, AZ
Washington Park, AZ
Ali Molina, AZ
Why, AZ
Theba, AZ
Yucca, AZ
Campo Bonito, AZ
Ventana, AZ
Santa Cruz, AZ
Mormon Lake, AZ
Copper Hill, AZ
Padre Ranchitos, AZ
Tonopah, AZ
Ali Chukson, AZ
Martinez Lake, AZ
Valentine, AZ
Oatman, AZ
Oak Springs, AZ
Haigler Creek, AZ
Wahak Hotrontk, AZ
Summerhaven, AZ
Amado, AZ
El Capitan, AZ
Rye, AZ
Flowing Springs, AZ
Ko Vaya, AZ
Beyerville, AZ
Hunter Creek, AZ
Alamo Lake, AZ
Lupton, AZ
Oljato-Monument Valley, AZ
Wintersburg, AZ
Mojave Ranch Estates, AZ
Charco, AZ
Wide Ruins, AZ
Roosevelt, AZ
Buckshot, AZ
Ice Fox Equipment Leasing & Rental
Top Delivery Service in Arizona
Top Delivery Service in United States